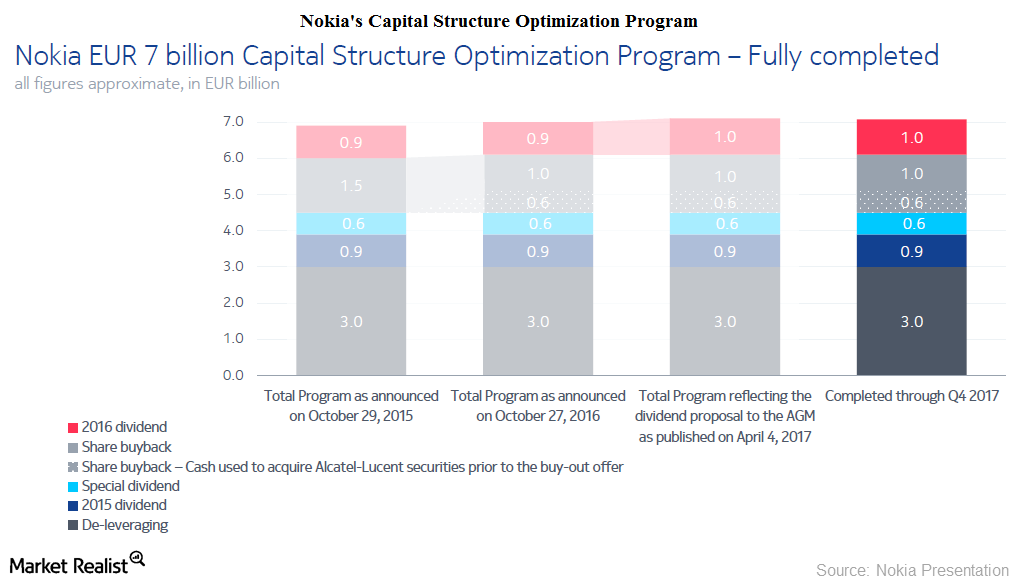 How Nokia Aims to Improve Shareholder Value
By Adam Rogers

Apr. 9 2018, Updated 3:20 p.m. ET
Dividend yield
Nokia (NOK) has a dividend yield of 4.4%, indicating an annualized payout of $0.24 per share and a dividend payout ratio of 61.2%. Peer companies Cisco (CSCO), Juniper (JNPR), and Europe's (EFA) Ericsson (ERIC) have dividend yields of 3%, 2.9%, and 2%, respectively.
In 4Q17, Nokia's cash outflows amounted to ~130 million euros driven by cash repurchases. The company completed its share repurchase program of 1 billion euros as well as its 7 billion capital structure optimization program, which it announced back in October 2015.
Article continues below advertisement
Cost savings
We've seen that Nokia expects its operating margins to come under pressure due to its accelerated 5G (fifth-generation) technology investments. The company aims to expand its EPS (earnings per share) and profit margins in 2019 and 2020. Nokia also aims to distribute between 40% and 70% of non-IFRS (international financial reporting standards) EPS to shareholders in the long term.
Nokia Technologies is the company's most profitable segment. Nokia has stated that subsegments such as group support functions, real estate, information technology, and consumer-incubation elements have further potential for cost reduction. Nokia's operating margin for its licensing vertical could expand to 85% by the end of 2020.
Nokia has estimated recurring annual cost savings of 1.2 billion euros in 2018, of which 800 million euros is expected to come from a reduction in operating expenses. Nokia's chief financial officer, Kristian Pullola, stated, "In 2018, our €1.2 billion of recurring annual cost savings is expected to be partly offset by approximately €100 million of incremental expenses related to 5G customer trials. It is important to note, however, that these expenses are temporary and are mainly related to materials and deployments and are specific to 2018 and will thus no longer impact our results in 2019 and onwards."
Correction: An earlier version of this article suggested that Nokia has a dividend yield of 3.5%, indicating an annualized payout of $0.19 per share and a dividend payout ratio of 61.2%. The correct values are 4.4% and $0.24 per share.