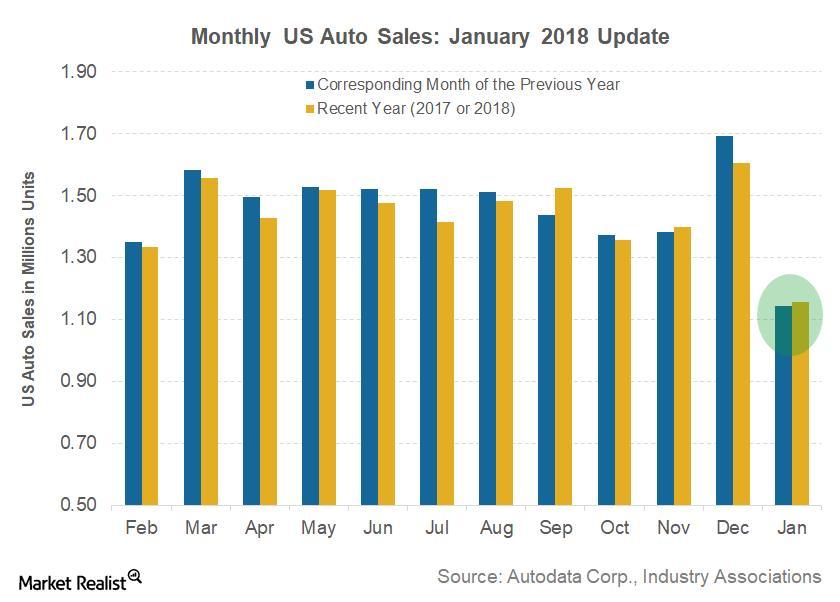 How Moderating US Vehicle Sales Could Affect Nucor
US vehicle sales
The automotive sector is the second-largest end steel consumer. ArcelorMittal (MT) is the leading steel supplier to the global automotive industry. Almost two-thirds of AK Steel's (AKS) steel shipments are to the automotive sector. U.S. Steel (X) also sells sheet products to automotive companies (F).
Nucor (NUE) has been expanding its footprint in the automotive sector. It's worth noting that US vehicle sales have shown signs of moderation after sales hit a record high in 2016. However, while US vehicle production fell roughly 3% last year, Nucor's auto shipments rose 7% year-over-year to 1.5 million tons in 2017. Nucor has been gaining market share from its peers in the lucrative automotive market.
Nucor is investing to further enhance its offering to the automotive sector, which includes a joint venture with JFE Steel in Mexico. Nucor expects its automotive shipments to increase to 2 million tons by 2020, which would be 33% higher as compared to last year's shipments.
Article continues below advertisement
Article continues below advertisement
The final word
Nucor's medium to long-term outlook looks fairly strong given its focus on automotive steel and President Trump's proposed infrastructure plans. The company's growth pursuits, both organic and inorganic, should also add to its earnings in the coming years. Although the stock's valuation multiples might seem to be on the higher side, they are also due to conservative earnings estimates. Analysts might wait for a final order in the Section 232 investigation before rerating US steel companies.
You can read Has the Section 232 Investigation Opened Pandora's Box? to see how the tariffs could impact US steel markets.