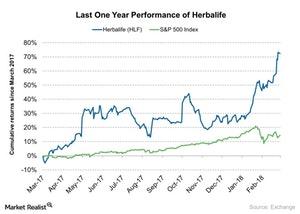 How Carl Icahn and Bill Ackman View Herbalife
Carl Icahn on Herbalife
Carl Icahn is a great believer in Herbalife. He has been a substantial investor in this stock since January 2013. He is very optimistic about Herbalife's (HLF) business model and believes it has set new standards for the personal product industry, where distributors play a key role.
Article continues below advertisement
Article continues below advertisement
Bill Ackman and Carl Icahn's stance on Herbalife
However, another activist investor, Bill Ackman, is betting against Herbalife. He is not confident about its business model. Many times, he said that its business model wasn't a lucrative one and that it seemed like an illegal pyramid scheme. Ackman took a short position in this stock five years ago, while Icahn took a long position in this stock. Herbalife represents nearly 6.8% of Icahn Enterprise's portfolio as of 4Q17. According to the institutional ownership report, Icahn Enterprises was the largest investor in Herbalife with 22.8 million shares as of 4Q17. Icahn announced that he hasn't sold a single share of Herbalife.
In an interview with CNBC on Wednesday, February 28, 2018, Bill Ackman disclosed that he exited his short position in Herbalife after it posted a strong rise in the last one year. Herbalife stock rose 40% in 2017. The broader market S&P 500 Index (SPY) rose 19.7% in the same year. After the announcement of Bill Ackman's exit on February 28, 2018, the stock jumped 8.8% between February 28, 2018, and March 5, 2018. The stock split and capital restructuring news also boosted Herbalife's recent rally.
Currently, Herbalife is trading at a trailing price-to-earnings multiple of 16.3x. The S&P 500 Index is trading at a 22.3x, and the consumer goods sector is trading at 17.4x.
In the next part of this series, we'll analyze Bill Ackman's new position in United Technologies (UTX).