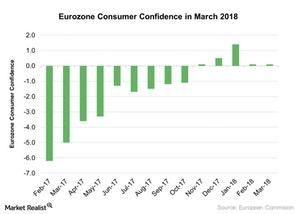 Eurozone Consumer Confidence Weakens
Eurozone consumer confidence in March
According to the European Commission, the Eurozone consumer confidence index has remained at 0.1 in March 2018, unchanged from February 2018. It was in line with markets' expectation of 0.1. The index, which measures consumers' confidence in the economy, has mainly remained flat due to lower economic activity and investor confidence.
Consumer spending is an important component of the Eurozone's GDP. If it shows weaker improvement, we could see weaker improvement in Eurozone economic growth. Falling consumer confidence signals that consumers are not very optimistic about the economy's outlook and consumer spending is falling.
Article continues below advertisement
Market performance
Major Eurozone funds such as the Vanguard FTSE Europe ETF (VGK) and the iShares Europe ETF (IEV) have fallen 2.4% and 2.6%, respectively, so far in March 2018. The iShares MSCI Germany ETF (EWG), which tracks Germany's economy, and the iShares MSCI France ETF (EWQ), which tracks France's economy, have fallen 3.4% and 2.8%. In the next part of this series, we'll analyze the German Ifo business climate index's performance so far in March 2018.