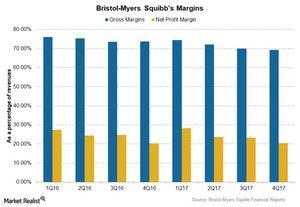 Bristol-Myers Squibb's Profit Margins in 4Q17
By Mike Benson

Updated
Profit margins
Bristol-Myers Squibb's (BMY) revenue grew 4% to $5.5 billion in 4Q17, driven by 2% operational revenue growth and a 2% boost from foreign currency translation. The chart below shows Bristol-Myers Squibb's profit margins since 1Q16. Between 4Q16 and 4Q17, the company's net profit rose to $1.13 billion from $1.06 billion.
Article continues below advertisement
Margins in 4Q17
Bristol-Myers Squibb's gross margin narrowed to 69.3% in 4Q17 from 73.7% for 4Q16, impacted by higher costs of sales and higher revenue sharing on Eliquis sales. Analysts expect a gross margin of ~71.3% for Bristol-Myers Squibb in 1Q18.
R&D (research and development) expenses rose to ~$1.9 billion in 4Q17 from ~$1.5 billion in 4Q16 due to higher expenses related to clinical trials and research alliances for pipeline drugs. R&D expenses are expected to rise to $1.2 billion in 1Q18.
Margins in fiscal 2017
Between fiscal 2016 and fiscal 2017, the company's gross margin contracted to 70.8% from 74.7% and R&D expenses rose to ~$6.4 billion from ~$4.9 billion, affected by the same factors as its 4Q17 margins and R&D expenses. Its net profit rose to ~$5.0 billion from $4.7 billion. The SPDR S&P Pharmaceuticals ETF (XPH) holds 4.0% of its portfolio in Bristol-Myers Squibb, 4.1% in Eli Lilly (LLY), 4.2% in Pfizer (PFE), and 4.2% in Merck (MRK).