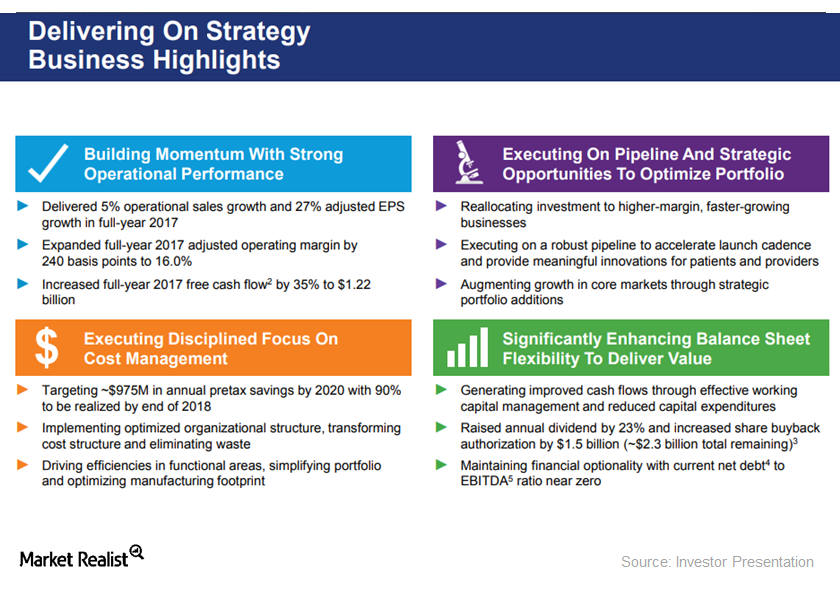 Baxter International Completes Its Mallinckrodt Assets Buy
Overview
Baxter International (BAX) announced the completion of its acquisition of Recothrom and Preveleak assets from Mallinckrodt Pharmaceuticals (MNK) for a total consideration of $185.0 million. This transaction includes $153.0 million in upfront payments and the rest in future milestone-based payments.
Additionally, Baxter International has assumed Preveleak's associated expenses and the contingent liabilities. Preveleak's manufacturing operations are also included in the deal.
Recothrom is a topical thrombin that is used for the treatment of hemostasis. Preveleak is a surgical sealant that is used in vascular reconstruction by sealing the leakage areas mechanically.
For the 12 months ended September 29, 2017, Recothrom and Preveleak generated sales of ~$56.0 million.
Article continues below advertisement
Deal rationale and synergies
This deal is expected to add modestly to Baxter International's adjusted EPS (earnings per share) in 2018 and increasingly going forward. The addition of hemostat and sealant assets to the company's portfolio accelerates its strategic portfolio addition strategy. This strategy is expected to augment growth in the company's fast-growing businesses. The chart above illustrates Baxter International's business strategy.
According to Wil Boren, president of Baxter International's Advanced Surgery business, "We are excited to add both RECOTHROM and PREVELEAK to our portfolio of hemostats and sealants to offer surgeons additional options that address different situations when intraoperative bleeding can occur."
Boren added, "Our top priority right now is working with customers and distributors to ensure a smooth transition."
This deal advances Mallinckrodt's transformation strategy to establish itself as a specialty pharmaceuticals growth company focused on innovation. The deal is expected to dilute Mallinckrodt's non-GAAP[1. generally accepted accounting principles] EPS by $0.10–0.18 in 2018.