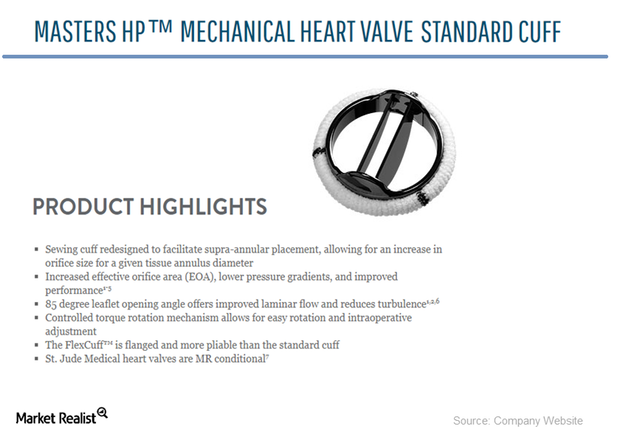 ABT Gets FDA Approval for World's Smallest Mechanical Heart Valve
FDA approval announcement
On March 6, 2018, Abbott Laboratories (ABT) announced that it received FDA (US Food and Drug Administration) approval for its Masters HP 15-mm rotatable mechanical heart valve, which is the first and only heart valve developed for newborns and infants.
The device's approval is expected to further boost Abbott's structural heart business, which reported sales growth of ~11.9% in fiscal 4Q17. The dime-sized device was approved based on the positive results of Abbott's Halo clinical trial, which was initiated in 2014. The trial included patients five years and under who had damaged, diseased, or malfunctioning heart valves.
On March 6, 2018, ABT stock rose ~0.86%, whereas Medtronic (MDT), Boston Scientific (BSX), and Edwards Lifesciences (EW), which are the other major players in the structural heart device business, saw gains of ~0.83%, ~0.04%, and ~1.2%, respectively.
Article continues below advertisement
Article continues below advertisement
Device features and benefits
The device is part of the company's Masters Series line, which now has a portfolio of seven valves that vary in diameter from 15 mm to 27 mm. The first valve in the Masters series was approved in 1995 and was a part of St. Jude Medical, which was acquired by Abbott Laboratories in January 2017.
The Masters HP 15-mm valve is a rotatable bileaflet mechanical heart valve designed for the implantation in the mitral or aortic position. It is the first and only FDA-approved mechanical heart valve for newborns and infants.
As per Abbott Laboratories, CHD (congenital heart defects) affects about 40,000 newborns every year, or ~1% of the total births in the United States. According to Michael Dale, vice president of the company's structural heart business, "There's an urgent need for the smallest babies and children who need a suitable replacement valve in order to survive. Abbott's new mechanical pediatric heart valve is a life-changing technology for the smallest pediatric patients, giving them a better chance at a long, healthy life with a fully functioning heart."