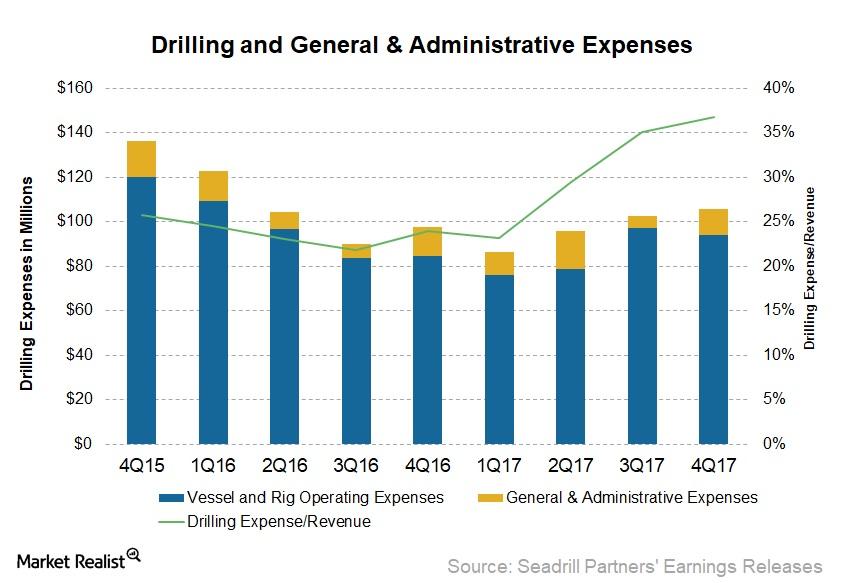 A Look at Seadrill Partners' Cost Performance in 4Q17
Operating expenses
Seadrill Partners' (SDLP) vessel and rig operating expenses fell 3% to $94 million in 4Q17 compared to $96.9 million in 3Q17. Its expenses were $9.7 million higher than $84.3 million in 4Q16. Expenses fell from the previous quarter due to lower costs on idle units.
In the above chart, you can see that Seadrill Partners' expense-to-revenue ratio rose to 36% in 4Q17 compared to 35% in 3Q17 and 21% in 4Q16. That tells us that SDLP's expenses fell at a slower rate than its fall in revenue.
Article continues below advertisement
Article continues below advertisement
Expense-to-revenue ratios for peers
In 3Q17, Transocean's (RIG) expense-to-revenue ratio fell to 46% from the previous quarter's 47%. Diamond Offshore Drilling's (DO) expense-to-revenue ratio rose to 54% in the third quarter. In the second quarter, Seadrill's (SDRL) ratio was 39%, and Ensco's (ESV) was 64%.
G&A expenses for 4Q17
Seadrill Partners' G&A (general and administrative) expenses rose from $5.4 million in 3Q17 to $11.6 million in 4Q17. Its expenses were $1.5 million lower than its G&A expenses of $13.1 million in 4Q16.
Operating income
Seadrill Partners recorded an operating income of $60.1 million in 4Q17, which was much lower than its operating income of $148.5 million in the previous quarter. The decrease was due to lower revenues and higher costs.
Operating income is calculated as total operating revenues less total operating expenses, including cash and non-cash items. In the next part, we'll look at Seadrill Partners' income excluding non-cash items and interest.