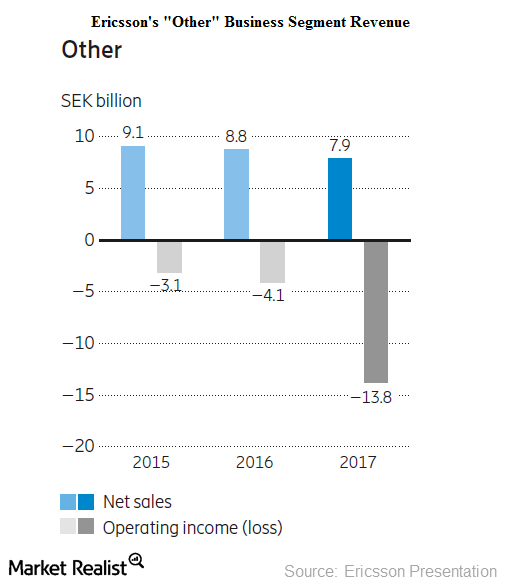 A Look at Ericsson's Other Segment
By Adam Rogers

Mar. 12 2018, Updated 7:31 a.m. ET
Other segment
Ericsson's (ERIC) Other segment consists of several verticals, including Emerging Business, Media Solutions, iconectiv, and Red Bee Media. Emerging Business focuses on developing partnership-based services to generate new sources of revenue for service providers. It's currently investing in high-growth areas such as IoT (Internet of Things) and UDN (Unified Delivery Network).
The UDN vertical is a content delivery network that connects content providers with service providers at a global level. Commercial deployments began in 2017, and Ericsson bagged contracts from NTT DoCoMo (DCM). According to the agreement, Ericsson's UDB (user database) will enable NTT DoCoMo customers to access high-quality content over their mobile networks.
According to Ericsson's (ERIC) annual report, "The iconectiv business offers services that enable service providers and enterprises to discover, route and interact with their customers in a secure manner. "
Article continues below advertisement
Media Solutions and Red Bee Media
Ericsson's Media Solutions service provides a platform for compression, software and hardware-based video storage, analytics, content delivery, and content published through set-top box or OTT (over-the-top). The Red Bee Media provides technology-enabled services with Ericsson handling the technical platform, including operational and system integration services. This service is used by broadcasters and content providers on a multiyear contract basis.
Operating expenses in Emerging Business and iconectiv doubled in 2017 to 2.8 billion Swedish kroner, while the company also saw traction in its UDN solutions space. Ericsson has reportedly developed a strong pipeline of customers and is optimistic about consumer interest in IoT. Ericsson has been looking for strategic opportunities in the Media Solutions and Red Bee verticals since March 2017. Earlier this year, the company announced that 51% of Media Solutions has been divested to an external partner, while Red Bee Media will be developed as an independent in-house media service business.
Ericsson's Other segment's revenue fell 3.3% YoY (year-over-year) to 8.8 billion Swedish kroner in 2016 and fell 10.3% YoY to 7.9 billion Swedish kroner in 2017. Excluding Media Solutions and Red Bee Media, Ericsson expects revenue of 3 billion to 5 billion Swedish kroner by 2020 in the Other segment with a break-even operating margin.