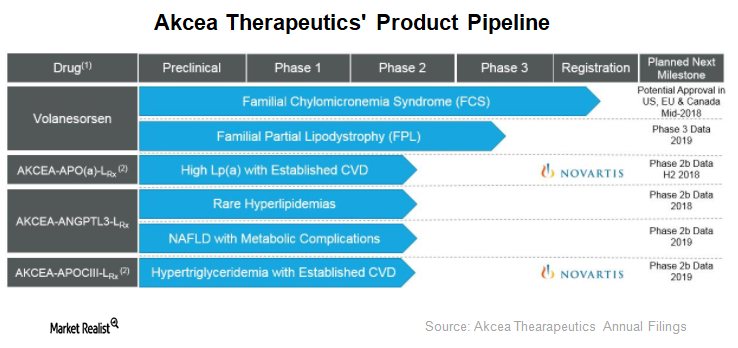 A Look at Akcea Therapeutics' Product Pipeline
By Kenneth Smith

Mar. 21 2018, Updated 11:25 a.m. ET
Volanesorsen
Volanesorsen, Akcea Therapeutics' (AKCA) most advanced drug for the treatment of patients with familial chylomicronemia syndrome (or FCS), is currently under review in the United States, the European Union, and Canada.
FCS is a rare, genetically defined disorder characterized by highly elevated levels of triglycerides. FCS can have life-threatening consequences, including acute pancreatitis.
The FDA has set a Prescription Drug User Fee Act (or PDUFA) date of August 30, 2018, for volanesorsen. Notably, volanesorsen's New Drug Submission (or NDS) in Canada was granted priority review by Health Canada. Volanesorsen is in Phase 3 development for the treatment of familial partial lipodystrophy (or FPL).
Akcea Therapeutics has started a Phase 2b dose-ranging study of AKCEA-APO in patients with hyperlipoproteinemia. Data from this study are expected in 2H18.
In 4Q17, Akcea Therapeutics initiated a study of AKCEA-ANGPTL3 in patients with nonalcoholic fatty liver disease (or NAFLD). Data from this study are expected in 2019.
Article continues below advertisement
Collaboration with Novartis
In order to maximize its pipeline's potential, Akcea Therapeutics has entered into a strategic collaboration with Novartis Pharma (NVS) for the development and commercialization of AKCEA-APO and AKCEA-APOCIII. Under the agreement, Akcea has received an up-front payment of $75 million from Novartis.
Addressable market dynamics
Cardiometabolic disease is the number one cause of death globally. It includes cardiovascular diseases and metabolic diseases. According to the American Heart Association, globally, cardiovascular disease accounts for 17.3 million deaths every year. According to a 2010 study, the number of people afflicted with diabetes in the United States is expected to grow from ~20 million in 2010 to 37 million–56 million by 2030.
In the next part of the series, we'll take a look at Akcea Therapeutics' cash flows.