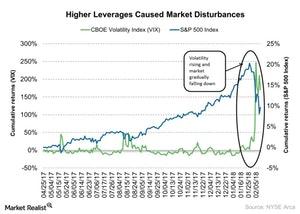 Warren Buffett to Investors: Never Buy a Stock Using Leverage
Warren Buffett's two cents
In his annual letter to shareholders, legendary value investor Warren Buffett advised investors never to buy a stock using leverage or borrowed money.
Buffett said that buying a stock is costlier for investors when they use leverage or borrowed money. In the recent sell-off in the first week of February 2018, leverage played an important role. On February 5, 2018, the S&P 500 Index (SPX-INDEX) (SPY), the Dow Jones Industrial Average Index (DJIA-INDEX), and the NASDAQ Composite Index (COMP-INDEX) fell 4.1%, 4.6%, and 3.8%, respectively, while the CBOE Volatility Index (VIX), which tracks the volatility of the S&P 500 Index, rose 115%.
Article continues below advertisement
Article continues below advertisement
Many fund managers such as and said after the recent sell-off that higher leverage-based products disturbed market movement. Investors also heavily reduced their cash position and invested that money in the stock market in January 2018, which added to the nervous sentiment.
When a sell-off occurs, investors become worried about their positions. Investors who are invested with their own money tend to wait a while for recovery in the market, while investors who used leverage could be more inclined to close a position or take more leverage.
Buffett wrote, "Even if your borrowings are small and your positions aren't immediately threatened by the plunging market, your mind may well become rattled by scary headlines and breathless commentary. And an unsettled mind will not make good decisions. No one can tell you when these will happen. The light can at any time go from green to red without pausing at yellow. When major declines occur, however, they offer extraordinary opportunities to those who are not handicapped by debt."
In the next part of this series, we'll analyze Warren Buffett's view on Apple.