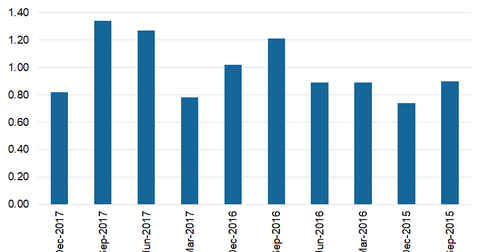 Raymond James Financial's Most Profitable Divisions
By Raina Brown

Updated
Private Client Group
Raymond James Financial's (RJF) Private Client Group reported fiscal 1Q18 revenues of $1.2 billion, a 19% rise over fiscal 1Q17 and a 5% rise over 4Q17. Pretax income of $155.1 million is an increase of 111% over 1Q17 and 9% over 4Q17. That includes $30 million for a legal charge.
The Private Client Group's assets under administration increased to $692.1 billion, an 18% rise over 4Q16 and a 5% rise over 3Q17. Assets in fee-based accounts stood at $316.7 billion, an increase of 32% over 4Q16 and 8% over 3Q17.
Growth in securities commissions and fees and higher short-term interest rates helped this segment generate favorable results in fiscal 1Q18. The assets in fee-based accounts grew. They represent 46% of the total Private Client Group's assets under administration at the end of fiscal 1Q18.
Article continues below advertisement
Raymond James Bank
In fiscal 1Q18, Raymond James Bank had net revenues of $165.2 million, which was a 20% rise over fiscal 1Q17 and a 1% rise over fiscal 3Q17. Pretax income of $114.2 million was a 10% rise over 1Q17 and a 1% rise over 3Q16. Loans of $17.7 billion represent a growth of 12% over 4Q16 and a growth of 4% over 3Q17. The reasons for growth in the current quarter are tax-exempt loans that were refinanced before the tax reform legislation.The company expects disciplined growth in the quarters going forward.
Improved credit metrics, expansion of its available for sale, and its agency-backed securities portfolio helped its expansion and led to higher interest earnings and a modest loan loss provision. The net interest margin for fiscal 1Q18 was 3.1%, which was 2 bps (basis points) higher than 1Q17 but 3 bps lower than 4Q17. The decline was due to the increase in the bank's excess cash balance and securities portfolio.
The pretax margins for its peers (XLF) Financial Engines (FNGN), Charles Schwab (SCHW), and TD Ameritrade (AMTD) are 15.2%, 16.6%, 40.7%, and 33.4%, respectively.