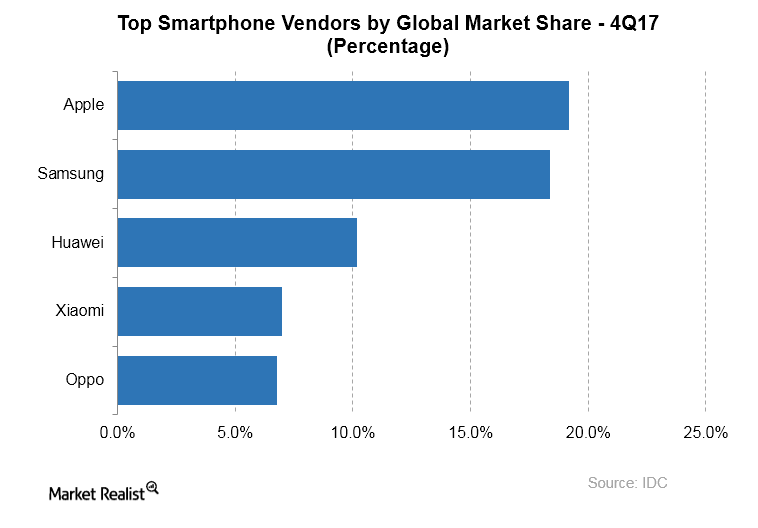 What You Need to Know About Apple's iPhone X Production Target
iPhone production cut
Before Apple (AAPL) released its results for the three months ended December 2017, or its fiscal 1Q18, there were reports of the company significantly slashing its iPhone X production target for the quarter ending March 2018.
The Wall Street Journal stated that Apple was planning to produce just 20 million iPhone X handsets in the March quarter, implying a steep cut from the ~40 million the company was initially planning. Production cuts are associated with weak demand.
Article continues below advertisement
Article continues below advertisement
Beating smartphone competition
The iPhone X offers new features, such as an OLED (organic light-emitting diode) screen. With the device, Apple appears to be betting on design upgrades to turn around its fortunes in an increasingly competitive market.
Chinese smartphone vendors Xiaomi and Oppo are gaining market share faster than larger competitors such as Apple and Samsung (SSNLF). Although Microsoft (MSFT), Nokia (NOK), and Alphabet's (GOOGL) Google are largely underdogs in terms of smartphone market share, they are nonetheless stoking competition in the smartphone market.
The top-selling iPhone
When the iPhone X went on sale, it was expected to bolster Apple's competition in the smartphone market. Therefore, signs of weak demand for the iPhone X as signaled by reports of Apple lowering its production target may raise investor concerns about the company's future, as the iPhone is its primary source of revenue.
However, according to Apple, there's nothing wrong with iPhone X demand. Apple CEO Tim Cook recently said that the iPhone X has been the top-selling iPhone every week since it went on sale in November.