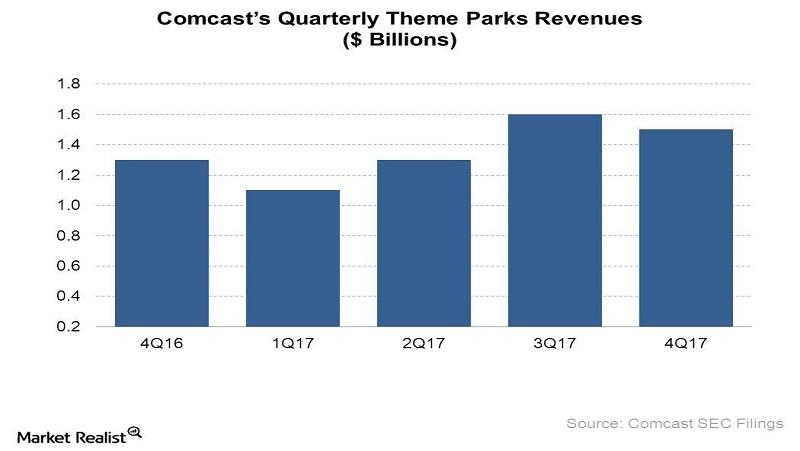 Here's How Comcast's Theme Park Business Performed in 4Q17
Theme Parks revenues jumped 8.7%
Comcast's (CMCSA) Theme Parks business was a star performer in 4Q17, with revenue growth accelerating over the previous quarter. Theme Parks revenues came in at $1.5 billion in 4Q17, representing an 8.7% YoY (year-over-year) rise, compared with its growth of 7.7% YoY in 3Q17.
By comparison, Walt Disney's (DIS) Parks and Resorts segment saw its revenues grow 13% YoY during the comparable time period.
Six Flags Entertainment (SIX) and Cedar Fair (FUN), which make money primarily by running amusement parks, reported revenue growth of 4.0% and 18.9% YoY in 3Q17 and 4Q17, respectively. SeaWorld Entertainment (SEAS), another theme parks operator, recorded a 9.8% YoY decline in revenues in 3Q17.
The chart above illustrates Comcast's Theme Parks revenue trend.
Article continues below advertisement
Theme Parks is the fastest-rising component of NBCUniversal
Theme Parks is a component of Comcast's NBCUniversal division. Other segments in this division include Cable Networks, Broadcast Television, and Filmed Entertainment. Theme Parks was the fastest-growing segment of NBCUniversal in 4Q17.
Theme Parks adjusted EBITDA (earnings before interest, tax, depreciation, and amortization) rose 3.2% to $661 million in 4Q17, driven by higher revenues, but rising expenses at Comcast due to investments in new attraction locations remained a drag.
Drivers of theme parks business
In 4Q17, Comcast's Theme Parks segment benefited from record attendance as well as higher average spending by guests. The opening of new attraction sites fueled gains in the business.
The company cited the openings of the Volcano Bay in Orlando in May 2017 and Minion Park in Japan in April 2017 as two of the key drivers of its Theme Parks revenues in recent quarters.