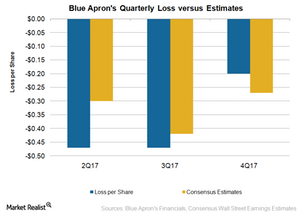 How Blue Apron's Margin and Bottom Line Fared in 4Q17
By Victoria Dean

Updated
Bottom line was driven by cost control
Blue Apron (APRN) reported its 4Q17 results on February 13, 2018. The company's adjusted EBITDA[1. earnings before interest, tax, depreciation, and amortization] loss totaled $19.7 million, compared with its adjusted EBITDA loss of $22.0 million reported in 4Q16. Stringent cost control measures and operational effectiveness lifted its EBITDA performance.
Blue Apron's cost of goods sold fell 10.7% in 4Q17, and its total operating expense fell 6.9% on a YoY (year-over-year) basis. Its marketing expenses fell 32.1%, and its PTG&A[2. product, technology, general, and administrative] expenses declined 2.4%.
However, the company's reported loss from operations came in at $37.5 million compared with $25.9 million recorded in 4Q16. Its lower revenues offset the impact of cost savings.
Blue Apron set a target of achieving break-even adjusted EBITDA in 2019. For 2018, the company expects its adjusted EBITDA loss to improve 50.0% on a YoY basis. The company noted the possibility of adjusted EBITDA breaking even as early as 4Q18, driven by its ongoing restructuring efforts.
Article continues below advertisement
Narrower-than-expected loss
Blue Apron's (APRN) 4Q17 loss of $0.20 came in narrower than the analysts' estimate of $0.27 and a loss of $0.39 per share reported in 4Q16. Reduction in the cost of goods sold and operating expenses contributed to the improvement in the company's bottom line.
However, for 2017, the company lost $1.64 per share compared with a loss of $0.84 per share reported in 2016. A rise in total operating expenses coupled with declining revenues contributed to this wider loss.
Blue Apron expects ongoing transformational initiatives to help improve its net loss by 33.0% on a YoY basis in 2018. Its cost of goods sold as a percentage of revenue is expected to improve 300–400 basis points in 2018. Its PTG&A savings are expected to be $20.0 million–$25.0 million.
However, the company expects to incur most of its 2018 marketing expenditures in 1Q18, which could pressure its adjusted EBITDA loss. Consequently, its net loss for 1Q18 could reflect little improvement.
Blue Apron expects its 1Q18 net loss to reach $47.0 million–$49.0 million. The analysts' estimate for its 1Q18 net loss stands at $47.3 million.