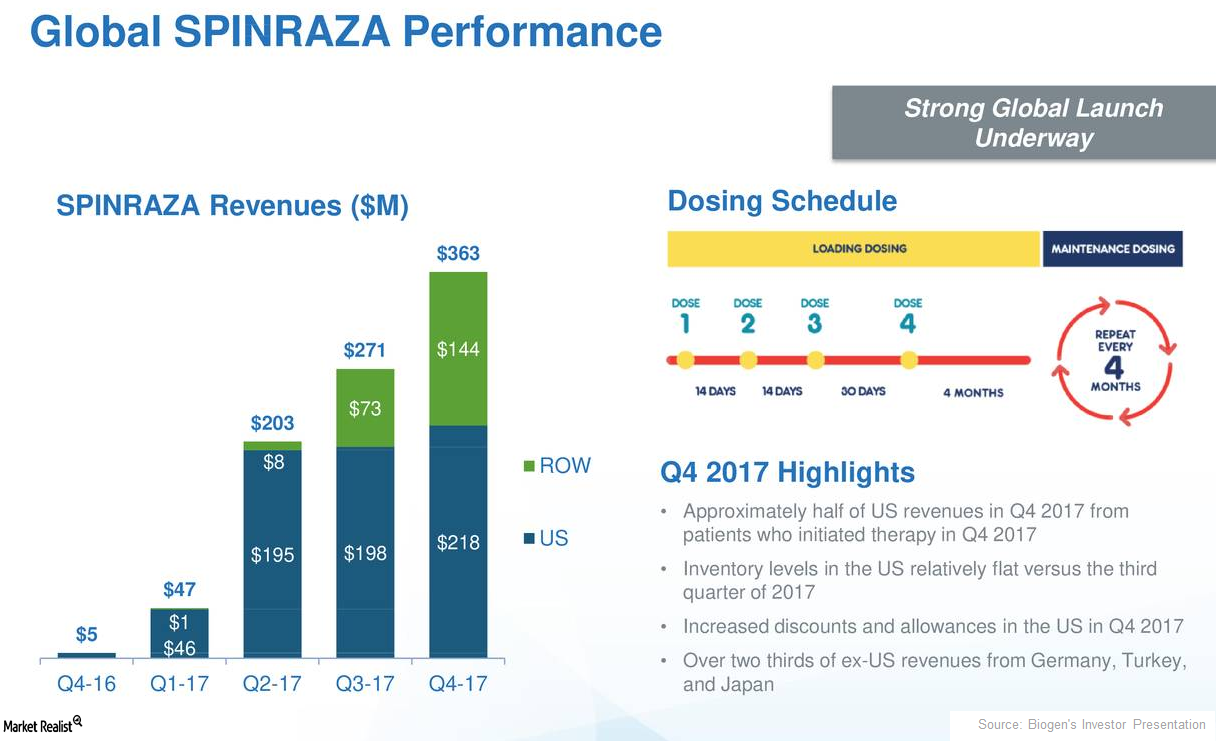 How Biogen's Spinraza Is Positioned for 2018
Spinraza's revenue trends
In 4Q17, Biogen's (BIIB) Spinraza generated revenues of $363 million, which reflected a 34% quarter-over-quarter growth. In 3Q17 and 4Q16, Spinraza generated revenues of $271 million and $5 million, respectively.
In 4Q17, in the US market and outside the US market (international markets), Spinraza generated revenues of $218 million and $144 million, respectively, compared to $198 million and $73 million, respectively, in 3Q17, which reflected 10% and 97% growth, respectively, on a quarter-over-quarter basis.
Article continues below advertisement
Recent developments
In November 2017, Biogen and Ionis Pharmaceuticals (IONS) presented the results of their Phase 3 ENDEAR trial. They conducted the trial to evaluate the safety and efficacy of Spinraza for the treatment of individuals with spinal muscular atrophy (or SMA).
The primary endpoint of the ENDEAR trial was the percentage of motor milestone responders measured as improvements in motor milestone categories in the Hammersmith Infant Neurological Examination (or HINE) and time to death or permanent ventilation.
The analysis of the ENDEAR trial demonstrated that 51% of infants receiving Spinraza therapy had motor milestone responses, including full head control, ability to roll over, and free sitting and standing, compared to 0% for untreated infants.
In the ENDEAR trial, Spinraza also achieved the pre-specified primary endpoint by demonstrating statistically significant 47% reduction in risk of death or permanent assisted ventilation.
Recent collaboration for SMA
In December 2017, Biogen and Ionis Pharmaceuticals entered into a collaboration agreement for the identification of a new antisense oligonucleotide drug candidate for the treatment of individuals with SMA. According to the terms of the agreement, Biogen will make an upfront payment of $25 million to Ionis Pharmaceuticals. Ionis Pharmaceuticals will also receive development and regulatory milestone payments from Biogen if the investigational drug proceeds toward regulatory approval.
In 3Q17, Alexion Pharmaceuticals (ALXN) and BioMarin Pharmaceutical (BMRN), Biogen's peers in the rare disease drugs market, reported revenues of $859 million and $334 million, respectively.
The revenue growth of Spinraza could boost the share price of the iShares Nasdaq Biotechnology (IBB). Biogen makes up 8.3% of IBB's total portfolio holdings.