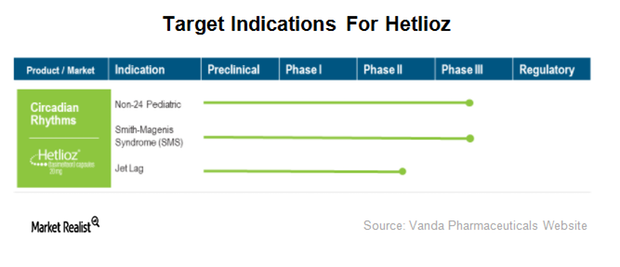 A Look at Vanda Pharmaceuticals' Product Portfolio
By Kenneth Smith

Feb. 23 2018, Updated 5:17 p.m. ET
Hetlioz
Vanda Pharmaceuticals' (VNDA) Hetlioz was approved by the FDA (U.S. Food & Drug Administration) in January 2014 for the treatment of Non-24-Hour Sleep Wake Disorder (or Non-24). Hetlioz was also approved by the European Commission in July 2015 for the treatment of Non-24 in completely blind adults.
Vanda Pharmaceuticals believes Hetlioz has the potential to treat a number of other circadian rhythm disorders. The product is currently in clinical development for the treatment of pediatric Non-24, jet lag disorder, and Smith-Magenis syndrome (or SMS). The company initiated a placebo-controlled simulated jet lag study in 4Q17.
According to the company, Non-24 affects approximately 80,000 people in the United States, and SMS affects approximately one in 20,000 births in the United States.
Article continues below advertisement
Fanapt
Fanapt is used for the treatment of schizophrenia. The product was launched in the United States by Novartis (NVS) in January 2010. In December 2014, Novartis transferred commercial rights to Fanapt in the United States and Canada to Vanda Pharmaceuticals. Through its distribution partners, Vanda Pharmaceuticals launched Fanapt in Israel and Mexico in 2014. Vanda Pharmaceuticals is currently assessing potential clinical opportunities for Fanapt for other disorders such as bipolar depression, major depressive disorder, and post-traumatic stress disorder nightmares.
Vanda Pharmaceuticals licensed tradipitant from Eli Lilly (LLY) in April 2012. Tradipitant is in clinical development for the treatment of chronic pruritus in atopic dermatitis and gastroparesis. In 3Q17, Vanda Pharmaceuticals completed a placebo-controlled clinical study targeting pruritus, which showed significant improvement in itch and disease severity. The company initiated a placebo-controlled Phase 2 study targeting gastroparesis in 4Q16.
VTR-297 is in development for hematologic malignancies, and VQW-765 is under study for CNS (central nervous system) disorders such as cognitive impairment.
In the next part of this series, we'll take a look at Vanda Pharmaceuticals' financial performance.