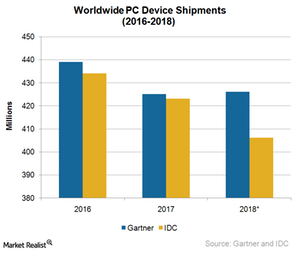 How Will PC Market Impact Different Semiconductor Companies in 2018?
2017 PC market
Micron (MU) has benefitted from the supply shortage and growing demand for PC (personal computer) and server DRAM (dynamic random access memory), while NVIDIA (NVDA) has benefitted from increased demand for PC gaming and AI-enabled servers. In both cases, PC was a major market. Intel (INTC) and Advanced Micro Devices (AMD) have the largest exposure to the PC market, as they are the only two PC processor makers.
Article continues below advertisement
2017 has been good for the PC market, as its shipment decline slowed. Although the traditional desktop market continued to fall, growth was high for laptops, notebooks, and gaming PCs. Gartner and IDC (International Data Corporation) have different forecasts but similar views about the PC market outlook.
For 2017, Gartner expects global PC device shipments (desktops and notebooks to ultramobile) to fall 3.2% year-over-year (or YoY) to 425 million units, whereas IDC expects global PC device shipments to fall 2.7% YoY to 423 million units.
Ryan Reith, vice president of IDC's Mobile Device Trackers program, stated that Microsoft (MSFT) Windows-based detachables account for 50% of the total detachables shipped, and Apple's (AAPL) iPad Pro line-up accounts for 30% to 35%.
IDC stated that the traditional PC market exceeded expectations despite a shortage in PC DRAMs and SSDs (solid state drives). IDC's Personal Computing Device Tracker research manager, Jay Chou, expects the memory supply shortage to ease in 2018. But Gartner's principal analyst, Mika Kitagawa, expects the DRAM shortage to continue until the end of 2018.
Article continues below advertisement
2018 PC market
For 2018, Gartner expects global PC device shipments to grow 0.8% to 426 million units, whereas IDC expects global PC device shipments to fall 4% YoY to 406 million units.
IDC expects sales of laptops, workstations, and detachable tablets to grow with detachables expected to grow in the double digits from 2018 through 2021. However, Ryan Reith stated that this growth would be more than offset by weakness in traditional desktop PCs as detachables account for only 5% of the overall PC market. IDC expects the share of detachables to increase to 9.4% by 2021.
Agreeing with IDC's Ryan Reith, Gartner's research director Ranjit Atwal stated that traditional PC shipments are expected to decline 4.4% in 2018, as users are waiting longer to upgrade their older PCs.
However, Ranjit Atwal believes that businesses will upgrade to Windows 10-based computers, which could drive demand for workstations in 2018. Moreover, he expects PC sales to grow in Russia (RSX) and China (MCHI). In Russia, he expects demand for desktops to increase as the economy improves. In China, he expects ultramobile sales to increase in 2018 as Microsoft works with a Chinese government agency to address security and privacy concerns related to Windows 10, which slowed the region's PC sales in 2017.
Next, we will see how the PC market could impact AMD's earnings in 2018.