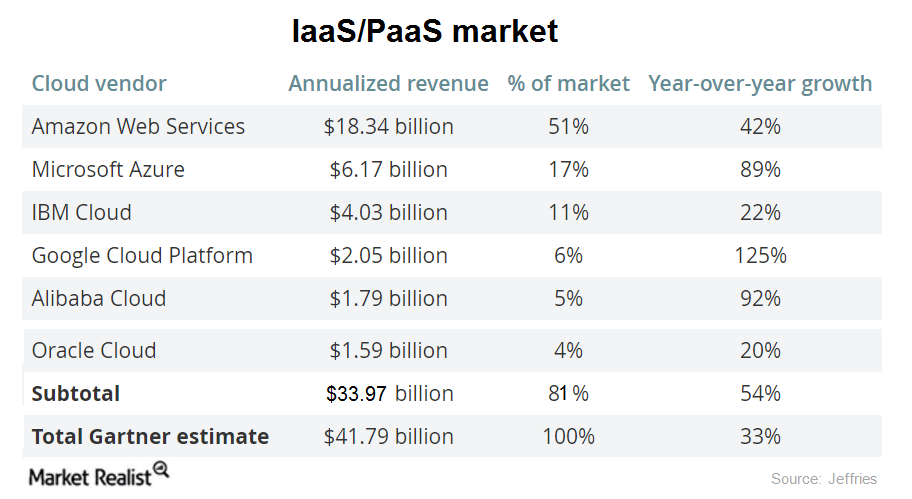 What's Oracle's Cloud Position in Comparison to Peers?
Top six players account for more than 80% of the public cloud market
Earlier in the series, we looked into Oracle's (ORCL) cloud offerings performance in the last quarter. In this article, we'll look at where Oracle stands in the IaaS/PaaS (or infrastructure as a service/platform as a service) space. According to Market Watch, Amazon (AMZN), Microsoft (MSFT), IBM (IBM), Google (GOOG), Alibaba (BABA), and Oracle together account for 81% of public cloud services revenues. Together, their IaaS/PaaS revenue rose 54% on a YoY basis to ~$34 billion.

Article continues below advertisement
Amazon leads, but severe competition is slowing its growth
Amazon's Amazon Web Services' (or AWS) 18 global data centers, with the majority housing 50,000 to 80,000 servers, contribute significantly to its leadership in the cloud space. Some of Amazon's data centers house as many as 300,000 servers. Though Amazon continues to be the undisputed leader in the cloud space, its revenue growth has slowed substantially. From its growth rate of 81% in the IaaS/PaaS space in June 2015, it has slowed to 42% in the recent quarter.
Amazon has announced 63 price cuts in AWS as of November 2017. Despite so many cuts, Amazon is facing severe competition.
In October 2017, Oracle announced that Oracle 18c, its first fully automated database system, would offer data warehousing services for half the price that AWS charges. Oracle 18c is expected to become available in January 2018.
Larry Ellison, Oracle's chair, stated, "You take a Redshift Amazon database workload that's already running at Amazon and you move it to the Oracle autonomous database and we will guarantee in writing, contractually, before looking at the workload, that any of those Redshift workloads will move to Oracle and your bill will be one half or less than what Amazon charges you."