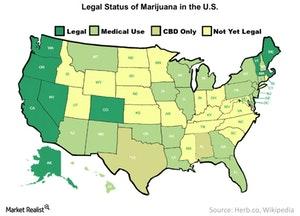 Vermont Legalizes Recreational Marijuana on January 22, 2018
Vermont and marijuana
On January 22, 2018, Vermont decriminalized the possession of marijuana for adults 21 and older. With increasing attention on the legalization of recreational marijuana in recent months, Vermont became the ninth state in the US to legalize marijuana for recreational purposes.
This move comes almost six years after recreational marijuana became legal in Colorado and Washington. Please read Must-Knows before Investing in the Marijuana Industry to learn more.
According to the press release from Governor Phil Scott, this move toward decriminalization entails "personal possession of no more than 1 ounce and cultivation of two mature plants on their private property."
This means that adult residents of Vermont are free to use marijuana for recreational purposes within the limits granted by the new law.
Article continues below advertisement
Missed revenue opportunity
However, this new law must be carefully read because it doesn't decriminalize the sale of marijuana for recreational purposes. With no legalization for businesses to sell marijuana for recreational use, Vermont is missing the opportunity to earn tax revenues. We'll cover this topic in the next part of this series.
Marijuana players
Marijuana is still an illegal drug in the US under federal law. This status means that companies such as Canopy Growth (WEED), which is active in Canada, may have a long way to go before marijuana sales in the US become legal.
However, medical marijuana is legal in several states. AbbVie (ABBV), Insys Therapeutics (INSY), and Corbus Pharmaceuticals (CRBP) are active in this subsegment of the pharma (PJP) space.
Series overview
With Vermont's new law not allowing residents to sell marijuana, the state is expected to miss the resulting tax revenues. So, why did the state pass this law? Read on to learn the answer.