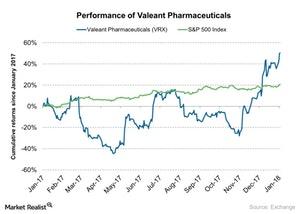 How Valeant Position Affected Pershing Square Capital Management
Valeant's role in Pershing Square Capital Management
Valeant Pharmaceuticals (VRX) occupied a substantial part of Pershing Square Capital Management's portfolio in 2016 and 2017. In 2Q16, Valeant Pharmaceuticals represented 8.7% of the firm's portfolio. Bill Ackman, the fund's manager, was highly confident about the future performance of Valeant. He said at that time that the company's core business and underlying franchises were strong. Plus, the company's asset sale program was slated to reduce its debt level significantly.
Valeant was one of Pershing Square Capital Management's top five holdings in 2Q16. The firm remained the largest investor in Valeant in 2Q16 with 21.5 million shares.
Article continues below advertisement
Valeant's performance
Valeant Pharmaceuticals is currently trading at $23.05. Its 52-week high is $23.47 and 52-week low is $8.31. In 2017, the stock rose 58%. The broader market S&P 500 Index (SPX-INDEX) (SPY) rose 19.8% in 2017. However, the stock has had a poor performance since July 2015. From July 1, 2015, to December 29, 2017, the stock fell nearly 91%. Thus, this poor performance had a negative effect on Pershing Square Capital Management's portfolio.
In the next part of this series, we'll analyze Bill Ackman's top holdings in 3Q17.