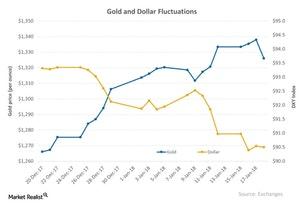 Is the US Dollar Correlated with Gold? January 2018 Insights
By Meera Shawn

Updated
Dollar slump
Over the past few months, the most important element in determining the price of the precious metals has been the US dollar (UUP).
In 2017, gold took much of its price fluctuations from the dollar, and the two maintained a close-knit relationship. They are inversely related because precious metals are dollar-based assets, which means that they're priced in the dollar. An investor who wants to buy gold often has to invest in the dollar first.
Article continues below advertisement
The chart above depicts the inverse relationship between the dollar and gold during the last month. The rise in the dollar deters investors from other countries, so gold demand is also negatively affected. Similarly, a fall in the dollar attracts investors, leading to stimulation in demand for dollar-based assets as well.
The dollar has seen a steep falling trend since 2017 on expectations that central banks across the globe, besides the Federal Reserve, are seeking to keep a low profile in terms of monetary policy. Interest rates may even be detrimental. The shutdown of the US government also added to the negativity of the dollar.
Correlation analysis
The US dollar depicted by the U.S Dollar Index (DXY) has fallen ~3.1% during the past month and ~0.44% over the past five trading days. Gold (IAU) and silver (SLV) have seen rises of ~5.6% each during the past month. Much of this fall could be due to the fall in the dollar.
The correlation of gold and the US dollar has been -0.48 in the past year, suggesting that ~48% of the time, gold has moved in the opposite direction of the dollar over the past year.
The mining shares that have also seen price rises in the past month include IAMGOLD (IAG), AngloGold Ashanti (AU), Coeur Mining (CDE), and Yamana Gold (AUY). These have risen 5.3%, 12.1%, 13.5%, and 14.1%, respectively.