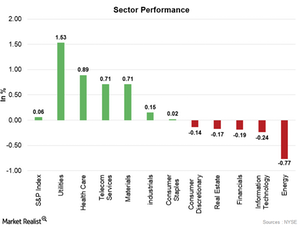 How Did the S&P 500, NASDAQ, and Dow Perform on January 25?
S&P 500
After gaining for three consecutive trading weeks and surging to record high price levels, the S&P 500 started this week on a stronger note by closing at fresh record high levels on January 23, 2018. On January 25, the S&P 500 opened the day higher and closed at a new all-time high daily close.
On January 25, six out of the S&P 500's 11 major sectors moved higher. Strength in the utilities and health care sectors pushed the market higher. On the other hand, weakness in the IT and energy sectors limited the market gains.
Article continues below advertisement
Market sentiment
The end of the US government shutdown and confidence of upbeat corporate earnings improved the market sentiment this week. The stronger-than-expected initial jobless claims report and bullish comments by President Trump on the US dollar added strength to the market on Thursday. President Trump commented in an interview with CNBC at the World Economic Forum's annual meeting that he expects the dollar to continue getting stronger. According to the Department of Labor, US initial jobless claims surged to 233,000. However, initial jobless claims were below the market's forecast of 236,000. The market is looking forward to the release of the 4Q17 US GDP at 8:30 AM EST today.
Volatility
The CBOE Volatility Index (or VIX) measures uncertainty in the market. It rose 0.96% to 11.58 on Thursday. The index is measured on a scale of one to 100 with 20 as the historical average. The VIX is also called the "fear index." Usually, it has an inverse relationship with stocks and rises when the S&P 500 falls.
NASDAQ and Dow
Amid profit-booking and weakness in the IT sector, the tech-heavy NASDAQ Composite Index closed the day almost flat. The NASDAQ Composite fell 0.05% on January 25 and closed the day at 7,411.16. The Dow Jones closed the day at 26,392.79—a gain of 0.54%.
In the next part, we'll discuss the S&P 500's top gainers on January 25.