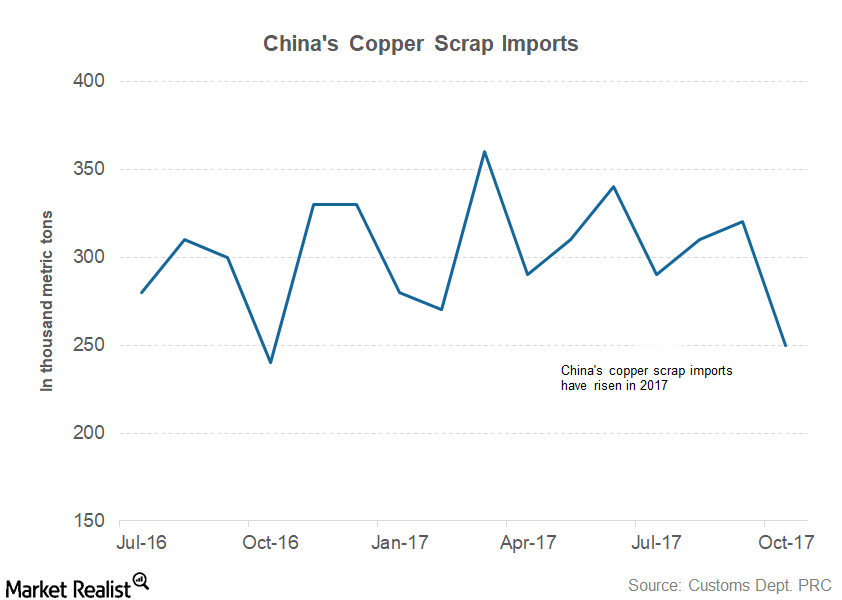 How the Secondary Market Could Impact Copper Prices in 2018
Secondary copper market
In the previous part, we looked at the factors that could impact the mined copper supply in 2018. Looking at Freeport-McMoRan's (FCX) 1Q18 TC/RC (treatment charges/refining charges) with Chinese smelters, physical markets expect copper concentrate supply to be tight in the near term. The TC/RCs for fiscal 1Q18 were settled at lower levels than fiscal 4Q17. Lower TC/RC generally signals a tight concentrate supply.
Article continues below advertisement
Copper, like other metals, is widely recycled. Last year, we saw improved scrap flows as copper prices moved to higher price levels. Higher scrap flows helped blunt some of the supply shortfall that resulted from strikes at leading mines, including BHP Billiton's (BHP) Escondida. So what could 2018 bring for copper scrap flows? Let's see.
2018 outlook
According to a Reuters article in December, "Scrap surge is still in effect, albeit with fading momentum." However, the article also notes, "All other things being equal, there should be less scrap to cushion potential mine disruption next year." We should remember that by the end of 2018, China plans to ban certain grades of copper scrap. The move is intended to reduce the country's pollution problem. Over the last couple of years, China has taken several measures, including curtailing its polluting steel, coal, and aluminum plants, to help reduce the smog during the winter months.
Global copper scrap markets might need to readjust themselves since China plans to ban certain grades in 2019. However, the scrap is not going out of the supply chain, and we could still see it being processed somewhere. However, the timing of the flow to alternate locations could keep copper bulls (DBC) interested.
Movement in energy prices could be another key driver for copper prices (GLEN-L) (ANTO) in 2018. We'll look at that in the next part.