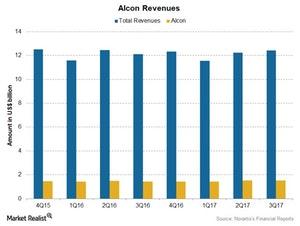 Reading the Estimates for Novartis's Alcon in 4Q17
Alcon, the eye care business
Alcon, Novartis's (NVS) eye care business, includes surgical products and vision care products. Alcon products are marketed in over 180 countries worldwide. For 4Q17, Alcon is expected to report growth in revenues, driven by the increased demand for contact lenses and surgical products during the quarter.
The above chart compares Alcon's revenues with Novartis's total revenues.
Article continues below advertisement
Surgical products
The global sales of surgical products are expected to report growth in 4Q17, following the increased sales of cataract consumable products, cataract equipment, vitreoretinal products, refractive products, and intra-ocular lenses globally, partially offset by lower equipment sales for LenSx technology in Asia and the US.
Vision care
The global sales of vision care products are expected to report growth in 4Q17, driven by the increased sales of daily contact lenses and Dailies Total 1. Dailies AquaComfort Plus (or DACP) Toric and DACP multifocal products, AirOptix Colors, and few other products are expected to contribute positively to the growth of revenues for vision care. However, the continued shift of consumers to daily contact lenses is negatively impacting overall contact lens care products.
Overall, Alcon's revenues are expected to report growth in 4Q17, and 2017, driven by the strong performance of vision care products and few of the surgical care products. The transfer of the ophthalmic pharmaceuticals business to NVS's Innovative Medicines segment in 2016 will likely impact Alcon's overall revenues.
Notably, the Vanguard FTSE Developed Markets ETF (VEA) has 8.6% of its total investments in healthcare companies. VEA has 1.0% in Novartis AG (NVS), 0.5% in Sanofi (SNY), 0.5% in Novo Nordisk (NVO), and 0.4% in GlaxoSmithKline (GSK).