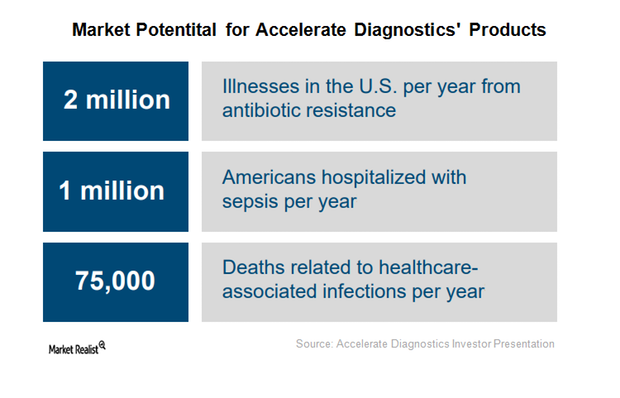 What's the Potential Market for Accelerate Diagnostics' Products?
Accelerate Pheno System
Accelerate Diagnostics' (AXDX) Pheno System utilizes genotypic and phenotypic technology to identify infectious pathogens and perform antibiotic susceptibility tests (or AST), which determine if live bacterial or fungal cells are resistant or susceptible to a particular antimicrobial agent. The PhenoTest BC Kit provides identifying (or ID) and AST results for bacteremia or fungemia, which are conditions with high mortality risk.
Article continues below advertisement
Article continues below advertisement
In February 2017, the US Food and Drug Administration (or FDA) granted marketing approval to the company's Accelerate Pheno system and Accelerate PhenoTest BC Kit. The kit includes 140 assays for identification and susceptibility testing. Of the total, 116 assays were cleared by the FDA, while 24 assays can be used for research purposes only.
Potential market
According to Accelerate Diagnostics, the global hospital-acquired infections testing market is expected to grow at a 19.1% compound annual growth rate over the next decade. This growth is expected on the back of the entrance of new technologies in the market and higher volumes due to improved screening, patients with compromised immunity, and an increase in challenges with multidrug-resistant organisms.
According to Accelerate Diagnostics, 14 million high-acuity tests are completed annually across various sample types like blood, respiratory, skin, and urine in North America, Europe, and the Asia-Pacific geographies.
The company estimates that there are ~20,000 global instrument placements at present, which consist of approximately 10,000 bioMeriux Vitek automated instruments, 6,000 Danaher (DHR) Microscan Systems, and 4,000 instruments from other companies in the space like Luminex (LMNX) and T2 Biosystems (TTOO). This installation base shows the potential market opportunity for the Accelerate Pheno System.
Accelerate Diagnostics makes up about 0.06% of the iShares Russell 2000 Growth ETF's (IWO) total portfolio holding.
In the next part of the series, we'll look at the competitive landscape for Accelerate Diagnostics.