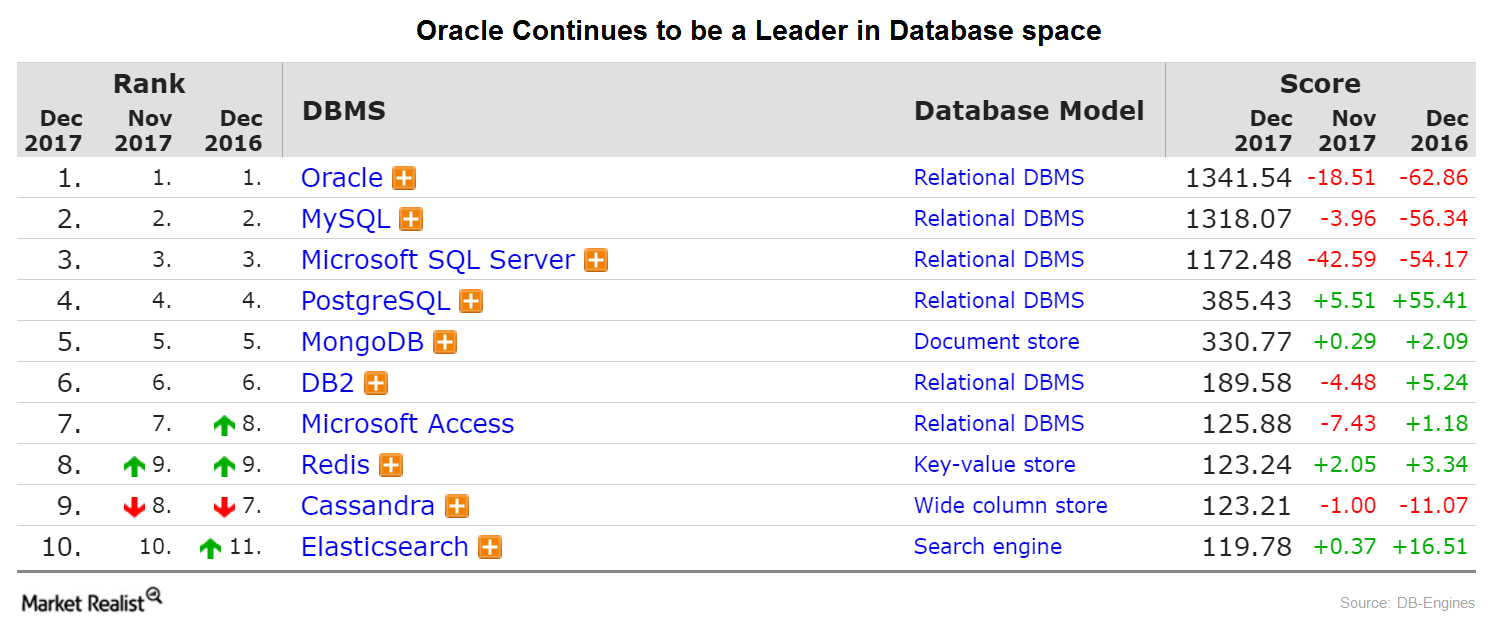 How Oracle Is Positioned in the Database Space
Oracle dominates the database space but Amazon poses a threat
Earlier in the series, we looked at how Oracle (ORCL) aims to retain its hold in the database space through DBaaS offerings, which are expected to grow more than two times in the next five years. In October 2017, Oracle unveiled Oracle 18c, its first autonomous database cloud.
The below presentation shows that that though Oracle continues to be a leader in the database space, enterprise-oriented open-source databases like MongoDB and PostgreSQL are being rapidly adopted.
Article continues below advertisement
In 2016, Amazon launched its own managed version of PostgreSQL. Citing Gartner's estimates for database space in 2016, CBROnline wrote that with a market share of 41.6%, Oracle leads the database space. However, its market share has dropped 1.5% since 2016. Microsoft (MSFT) and IBM (IBM) are the top three players in this space.
Amazon's (AMZN) AWS (Amazon Web Services) emerged as the most significant newcomer in the space with a very small base. Approximately $834 million of AWS revenues were attributable to DBMS in 2015.
Price war between Oracle 18c and Amazon Redshift
Amazon is known for its price-cutting strategy, which forces other players to do the same. In the database space, Oracle would have to compete with Amazon prices. In October, Oracle announced that Oracle 18c, its autonomous database cloud and next-generation database, will be available in January 2018.