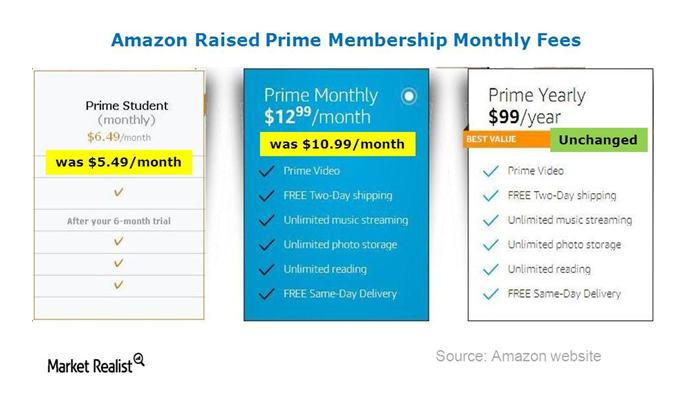 What the New Amazon Prime Charges Look Like
Amazon Prime monthly will cost $155.88 per year
Amazon (AMZN) is raising its Amazon Prime membership fees for some subscribers. Amazon Prime, which is fashioned as a loyalty program, gives members a broad range of benefits, including free shipping on many items. The adjusted Amazon Prime rates affect monthly subscribers in the United States (SPY).
The Amazon Prime monthly plan, which was introduced less than two years ago, is rising to $12.99 per month from $10.99. That's an 18% price hike. Amazon Prime monthly subscribers will pay $155.88 per year.
The Amazon Prime annual plan costs $99. The fee for that plan is expected to stay the same.
Article continues below advertisement
Article continues below advertisement
Amazon Prime for students goes up as well
Amazon has a special Amazon Prime plan for students, which is also rising for monthly subscribers. It will go up from $5.49 per month to $6.49. A student's annual plan costs $49, which will stay the same.
Battle for grocery shoppers
To try to woo more grocery shoppers into the ongoing battle with traditional food retailers, Amazon introduced a special Amazon Prime subscription plan last year for households on government assistance. The company is keeping the price of that plan at $5.99 per month.
Amazon is waging a grocery war against legacy retailers Walmart (WMT), Costco (COST), and Kroger (KR). Amazon's share of food and beverages sold online in 2017 in the United States doubled to 18%, according to One Click Retail. The company's US grocery sales in 2017 are estimated at $2 billion.