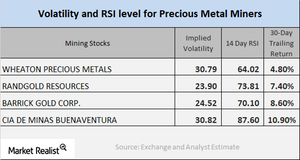 How Mining Stocks Have Performed in January So Far
Mining stock analysis
Most of the mining companies have risen during the past one month due to the revival in precious metal prices. The mining companies below are all more sensitive to movements in precious metals than they are to the equities market in general.
For our analysis here, we've selected Wheaton Precious Metals (SLW), Randgold Resources (GOLD), Barrick Gold (ABX), and Cia De Minas Buenaventura (BVN). All four of these miners have increased on a 30-day trailing basis. SLW, GOLD, ABX, and BVN rose 4.8%, 7.4%, 8.6%, and 10.9%, respectively. The rebound in these mining stocks is likely due to the recent upswing in precious metal prices.
Article continues below advertisement
Volatility analysis
The mining stocks' volatility is important, as it gives insight into the potential change in the price of an asset given the fluctuations in the price of its call option. SLW, GOLD, ABX, and BVN have call implied volatilities of 30.8%, 23.9%, 24.5%, and 30.8%, respectively.
RSI readings
When a stock's RSI level is above 70, it indicates that it could be in overbought territory, and so the stock's price could fall. When a stock's RSI indicator is less than 30, it indicates that the stock could be oversold, and so its price could rise. SLW, GOLD, ABX, and BVN have RSI levels of 64, 73.8, 70.1, and 87.6, respectively.
The mining-based funds like the VanEck Vectors Gold Miners Fund (GDX) and the Global X Silver Miners (SIL) have also increased over the past 30 trading days. They rose 1.9% and 0.43%, respectively.