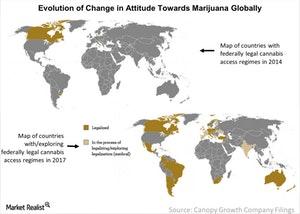 How Marijuana Acceptance Is Evolving Globally
Evolution
It's fascinating to see how the marijuana landscape around the world has evolved in the last three years. According to Canopy Growth (WEED.TO), Canada, Israel, the Czech Republic, Uruguay, and the Netherlands "established federally legal cannabis access regimes" in 2014.
Globally, the acceptance of marijuana evolved further in 2017 with more countries either legalizing cannabis access at a federal level or exploring the possibility of legalizing cannabis.
Article continues below advertisement
Uses
Perhaps this background explains the intensified interest in marijuana stocks. Two underlying factors are pulling the marijuana industry forward.
a thriving and legal medical marijuana industry in the United States and Canada
the increasing legitimacy of marijuana for recreational purposes—at least in Canada
But are these two factors enough to determine that marijuana stocks will take off? Looking at the above chart, you can see that—at least in the current environment—that seems likely. The increasing use of marijuana in the medical field has paved the way for other uses, which we'll discuss later in this series.
AbbVie (ABBV), Insys Therapeutics (INSY), and Corbus Pharmaceuticals (CRBP) are some of the names that are active on the medical side of marijuana. Scotts Miracle-Gro (SMG) is active on the agribusiness side (MOO).
Next, we'll discuss medical marijuana in more detail.