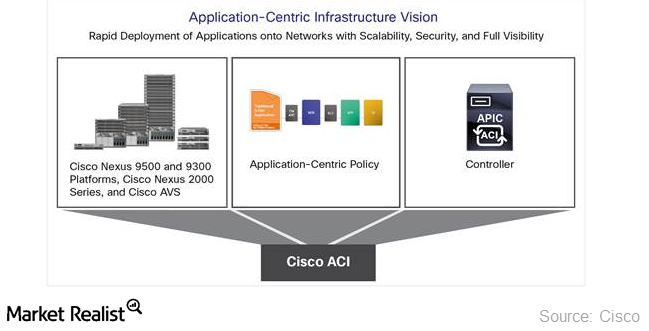 A Look at Cisco Systems' Application-Centric Infrastructure
Application Centric Infrastructure
According to Cisco Systems (CSCO), its "Application Centric Infrastructure (ACI) is a holistic architecture with centralized automation and policy-driven application profiles. ACI delivers software flexibility with the scalability of hardware performance." Cisco's ACI portfolio consists of the Cisco Nexus 9000 Series Switches, the Cisco Virtual Application Switch, and the Cisco Application Policy Infrastructure Policy (or APIC).
ACI aims to simplify automation using an application policy model, while its vision is to deploy and manage a network supporting rapid application changes. ACI can achieve that goal as it reduces complexity and uses a framework that automates the management of resources.
Article continues below advertisement
Article continues below advertisement
Benefits for customers
Using Cisco's ACI portfolio of products will enable companies to reduce service delivery timelines and optimize cost structures. ACI's central deployment model aids in the acceleration of network and security infrastructure configurations. ACI automates security policies while providing companies with the flexibility and control to retain policies for compliance.
ACI takes advantage of existing Ethernet and IP (Internet Protocol) by combining hardware, ASIC, and software innovations into an integrated systems approach. Companies are benefiting significantly from ACI's common management framework for several teams, including those in application, security, and networking.
We know that ACI makes IT (information technology) more agile by automating several tasks such as image management, configuration, and networking infrastructure services.