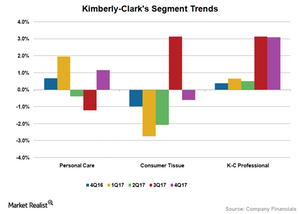 Kimberly-Clark: Segment Performances in 4Q17
Personal Care segment returned to growth
Kimberly-Clark's (KMB) Personal Care segment returned to growth in 4Q17. The segment's top line increased 1.2% to $2.3 billion, driven by improved volumes (+2%) and a favorable product mix (+1%), partially offset by lower net selling prices (-3%). The segment's sales also gained from the company's joint venture in India. In comparison, Procter & Gamble's (PG) sales of personal care products also improved on a YoY (year-over-year) basis, driven by strength in China (FXI).
Article continues below advertisement
Kimberly-Clark's Personal Care segment's net sales in North America decreased 2%. An improvement in volumes was more than offset by a decline in net selling prices due to promotional spending across most of its product categories. Sales in developing and emerging markets increased 7%, reflecting higher volumes in Latin America, mainly Brazil and Argentina, and in Europe. An improved product mix and favorable currency rates further supported the segment's sales. However, lower net selling prices remained a drag.
Personal Care segment sales in developed markets outside North America (South Korea, Australia, and Western and Central Europe) fell 5% due to lower volumes in South Korea and lower selling prices.
Consumer Tissue segment marked decline
Sales in the Consumer Tissue segment fell 0.6% to $1.5 billion in 4Q17, reflecting lower volumes and net selling prices, partially offset by favorable currency fluctuations. Sales in the North America region decreased due to lower volumes in bathroom tissue and higher promotional expenses. Sales in developed regions outside North America and developing and emerging regions grew on a YoY basis, reflecting higher volumes, favorable currency rates, and an improved product mix.
Kimberly-Clark Professional segment continued to grow
Sales for the Kimberly-Clark Professional segment rose 3.1% to $0.8 billion in 4Q17. That reflected increased volumes in North America, China, and Latin America, along with favorable currency rates. Safety and other product categories marked improved volumes in North America.