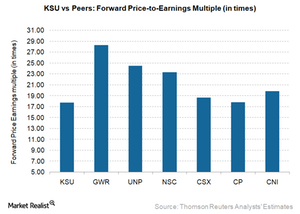 How Kansas City Southern Is Valued among Peers after 4Q17
KSU's unique Mexican operations
Kansas City Southern (KSU) operates the shortest and most direct rail passage between Mexico City and Laredo, Texas, a border city on the US-Mexican border. It's an international gateway between the two countries, accounting for more than 50% of all rail and truck traffic between the United States and Mexico.
The Mexican subsidiary's rail lines give exclusive rail access to the US-Mexico border at Nuevo Laredo in the Mexican state of Tamaulipas. It's the largest rail freight interchange point between the United States and Mexico. KSU's Mexican subsidiary provides sole rail access to the Port of Lázaro Cárdenas on the Pacific Ocean.
Article continues below advertisement
Forward price-to-earnings multiple
We have opted to value Kansas City Southern using the forward PE (price-to-earnings) multiple. A forward PE ratio is obtained by dividing a company's stock price from analysts' earnings estimates for the next four quarters. If a railroad has a higher PE multiple, it doesn't necessarily mean it's overvalued. A high multiple could be due to a variety of reasons such as strong top-line growth, above-industry operating margins, and margin growth.
Valuations for KSU and its peers
As you can see in the above graph, Genesee & Wyoming (GWR), the largest short-line operator in the United States, has the highest multiple of 28.2x. Its acquisition synergies are expected to increase its net income over the next 12 months. That has differentiated the company from its peer group.
GWR is followed by Union Pacific (UNP), which has a forward PE multiple of 24.5x. It's expected to benefit significantly from US tax reforms as well as strong operating margins, given its enormous operations. Eastern US major rail carrier Norfolk Southern (NSC) is third in valuation based on its forward PE ratio. The company has a multiple of 23.3x.
KSU has the lowest PE ratio of 17.7x in the peer group, most likely due to the uncertainty of the NAFTA (North Atlantic Free Trade Agreement) renegotiations. CSX (CSX), which once enjoyed the highest PE ratio in the group, now has a multiple of 18.6x. Since the death of its former CEO (chief executive officer) E. Hunter Harrison, the market has been cautiously watching what may come out of its turnaround plan.
All the US-originated Class I railroads make up 4.5% of the portfolio holdings of the iShares Global Industrials (EXI).