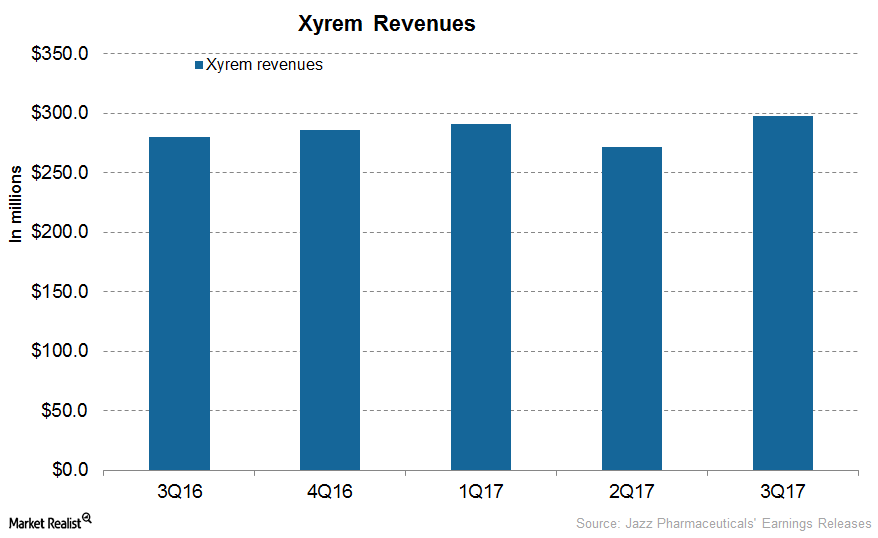 How Is Jazz Pharmaceuticals' Xyrem Positioned after 3Q17?
By Daniel Collins

Jan. 4 2018, Updated 12:20 p.m. ET
Xyrem's revenue trends
In 3Q17, Jazz Pharmaceuticals' (JAZZ) Xyrem generated revenue of $303.9 million, which reflected a rise of ~6% on a YoY (year-over-year) basis and a rise of 2% on a quarter-over-quarter basis.
Xyrem reported revenue of $874.2 million in the first nine months of 2017 compared to $816.4 million in the first nine months of 2016.
In 3Q17, Xyrem's bottle volume decreased by 1% compared to 3Q16 as the result of fewer shipping days in 3Q17. In 3Q17, the number of active patients receiving Xyrem rose to 13,000, which reflected a ~4% rise compared to 3Q16.
Xyrem (sodium oxybate) oral solution is used for the treatment of individuals with cataplexy in narcolepsy and excessive daytime sleepiness (or EDS) in narcolepsy.
Article continues below advertisement
Jazz Pharmaceuticals has various R&D (research and development) plans for Xyrem and other oxybate-associated programs, These plans include a supplemental New Drug Application (or sNDA) for Xyrem in the treatment of pediatric narcolepsy patients with catalepsy. Jazz also has plans for an sNDA for Xyrem for pediatric narcolepsy patients with EDS.
Xyrem's intellectual property update
Jazz Pharmaceuticals is continuing its patent litigation cases against Amneal, Par, Watson, and Lupin, which have filed abbreviated new drug applications (or ANDA) to the FDA. Currently, trial dates have not been scheduled and are anticipated to fall in mid-2018.
In August 2017, Jazz Pharmaceuticals settled a patent litigation with Ascent Pharmaceuticals for filing an ANDA to the FDA. Jazz Pharmaceuticals entered into a settlement granting Ascent a license to manufacture and commercialize Xyrem on or after December 31, 2025.
In the marketplace, Xyrem's peers include Teva Pharmaceuticals' (TEVA) Provigil and Nuvigil, Shire's (SHPG) Adderall XR, and Novartis's (NVS) Ritalin. In 3Q17, Novartis's Ritalin reported revenue of $44 million.
The revenue growth of Jazz's Xyrem could boost the share price of the iShares U.S. Pharmaceuticals ETF (IHE). Jazz Pharmaceuticals makes up ~2.5% of IHE's total portfolio holdings.