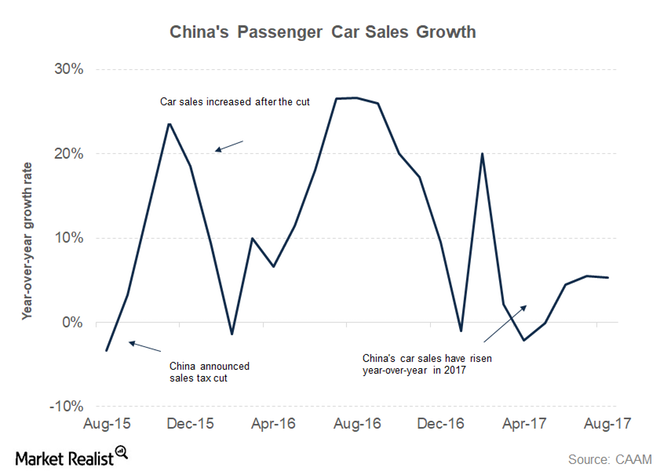 Iron Ore: Could China's Auto Sales Hit a Rough Patch in 2018?
China's auto demand
In this article, we'll look at the Chinese automobile industry. It ranks second after the real estate sector in consuming the most steel.
Article continues below advertisement
Auto sales
Auto sales (XLY) in China grew just 0.7% in November 2017 compared to November 2016. The total vehicle sales grew to ~3.0 million units. Year-to-date, passenger car sales have shown growth of 3.6% year-over-year (or YoY) to 29.0 million units.
The China Association of Automobile Manufacturers originally forecast 5.0% growth in total vehicle sales for 2017. However, after the weaker-than-expected data for the last couple of the months, the association has downgraded its current expected growth to 3.5% for 2017.
Auto sales on a weaker path
A temporary tax cut had boosted auto sales in 2016 to 15.0%. While the sales tax was cut from 10.0% to 5.0% in 2016, it increased to 7.5% in 2017. This will revert to full 10.0% in2018. Therefore, analysts are projecting a further fall in the growth rate in the auto sector in 2018.
Higher sales were expected by analysts in the last several months of 2017 as consumers take advantage of the lower sales tax. That, however, doesn't seem to have materialized.
Lackluster growth in the property and auto markets doesn't bode well for steel demand in China. These factors could be negative for global steel (SLX) demand.
Lower steel demand is negative for iron ore demand, which impacts seaborne iron ore players such as Vale (VALE), Rio Tinto (RIO), Cleveland-Cliffs (CLF), and BHP Billiton (BHP).