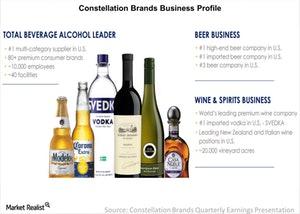 Is Investment in the Marijuana Space Picking Up?
By Adam Jones

Jan. 22 2018, Updated 10:33 a.m. ET
A thriving industry
In the previous part of this series, we saw that the alcohol industry could expect marijuana legalization for recreational purposes as an extension to their growth strategy. With too much confusion surrounding the legalities of the marijuana industry, some seasoned players appear highly optimistic about the future of recreational marijuana.
Article continues below advertisement
Constellation Brands invests in Canopy Growth
Late last year, Constellation Brands (STZ) agreed to acquire a 9.9% stake in the Canada-based Canopy Growth for about $191.3 million. Constellation Brands also has an option to acquire additional stakes in Canopy Growth through warrants that expire in May 2020.
Constellation Brands is a producer and marketer of alcoholic drinks such as beer, spirits, and wine. The company refers to itself as the third-largest beer company in the United States and the "world's leading premium wine company." As of January 17, Constellation Brands had a market capitalization of $42.9 billion.
A substantial player like Constellation Brands taking an interest in the marijuana industry sends a strong signal about the future of this industry. In its recent 10-Q filings, Constellation Brands stated, "This transaction is consistent with our long-term strategy to identify, meet and stay ahead of evolving consumer trends and market dynamics."
Companies (MOO) such as AbbVie (ABBV), Insys Therapeutics (INSY), Scotts Miracle-Gro (SMG), and Corbus Pharmaceuticals (CRBP) have also gradually increased their interest in the marijuana industry.
One of the big five
In Canada, one of the big five banks, BMO (Bank of Montreal), recently participated in equity financing of marijuana player Canopy Growth Corp. The financing was valued at about $175 million.
Given the investment interest in marijuana companies, we'll discuss the business potential for investors in the next part of this business. Of course, none of this would be possible without the legal nod to the marijuana industry in these countries.