What France's Manufacturing Activity Indicates
France's manufacturing activity in December According to Markit Economics, France's manufacturing PMI (purchasing managers' index) rose strongly in December 2017, to 58.8 from 57.7 in November 2017. Whereas the index didn't meet the market estimate of 59.3, it marked the strongest improvement in manufacturing activity since September 2000. France's expansion in manufacturing activity suggests that business […]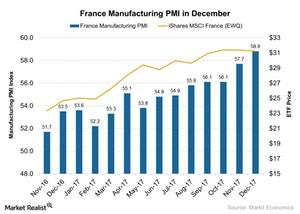 France's manufacturing activity in December
According to Markit Economics, France's manufacturing PMI (purchasing managers' index) rose strongly in December 2017, to 58.8 from 57.7 in November 2017. Whereas the index didn't meet the market estimate of 59.3, it marked the strongest improvement in manufacturing activity since September 2000.
France's expansion in manufacturing activity suggests that business and economic conditions are improving. Stronger client and domestic demand and global economic growth are supporting France's economic activity. The French manufacturing PMI's strong performance in December was mainly due to the following:
production volume and output rose at a higher rate
new business and export orders rose at a faster pace
employment in the manufacturing sector rose
Article continues below advertisement
Article continues below advertisement
Performance of various ETFs in December
The iShares MSCI France ETF (EWQ), which tracks France's economic performance, fell 0.4% in December 2017. The iShares MSCI Eurozone ETF (EZU), which tracks the performance of the Eurozone (N100-INDEX) (FEZ) (IEV), fell 0.3%. In the next part of this series, we'll analyze Germany's manufacturing PMI in December 2017.