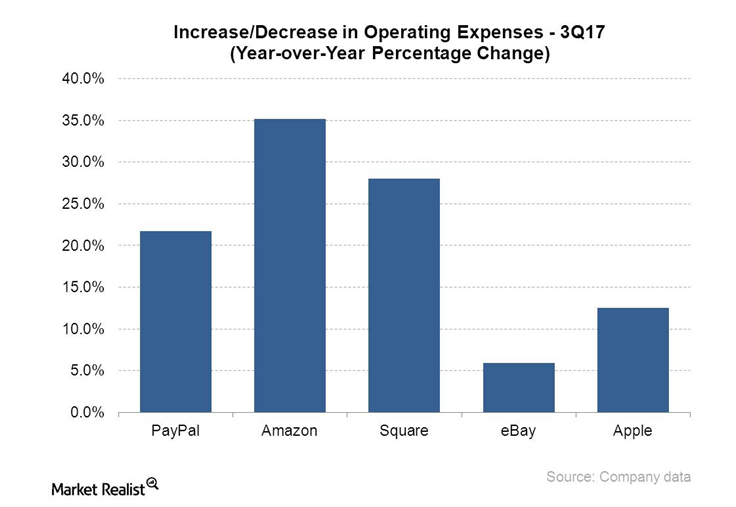 How PayPal Is Managing Its Cost-Control Initiatives
Profits increased 17.6% year-over-year
In 3Q17, PayPal's (PYPL) net profit grew 17.6% YoY (year-over-year) to $380.0 million. Its profit rose 27.0% YoY in 2Q17 and 5.0% YoY in 1Q17.
PayPal's chief financial officer, John Rainey, noted that the company has more room to improve its profitability. Speaking at the recent Credit Suisse technology conference, he noted that when he joined the company about two years ago, he noticed PayPal's potential to grow while maintaining minimum costs. He added that minimizing costs while driving revenue growth creates an environment for profits to increase.
Article continues below advertisement
Shifts in PayPal's cost structure
Rainey also shed some light on the shifts in the company's cost structure and highlighted where the company could continue to drive more cost efficiency. Before PayPal separated from eBay (EBAY), fixed costs or non-volume costs consumed $0.50 of every additional dollar it generated in revenue each quarter. As a result, PayPal was spending cash on expenses that were not directly related to driving growth, but that trend has changed.
Rainey noted that the company is currently spending just $0.09 of every additional revenue dollar on non-volume costs. He added that there was room for the company to lower its cost burden further to allow it to become more profitable.
Cutting call center expenses
In highlighting additional cost-saving opportunities, Rainey mentioned PayPal's customer service and operations departments. He noted that these operations account for about half of the company's workforce.
As PayPal improves its customer experience, it can cut demand for call center services, which could create an opportunity to reduce costs. PayPal's total operating expenses increased 21.7% YoY in 3Q17.
Amazon (AMZN), Square (SQ), and Apple (AAPL) saw their total operating expenses increase 28.0%, 35.2%, and 12.5% YoY, respectively, in 3Q17.