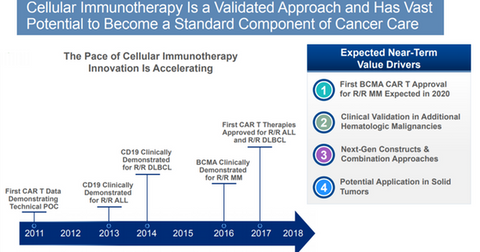 How Juno Therapeutics' Cellular Immunotherapy Portfolio Could Help Celgene
By Daniel Collins

Updated
Cancer therapies
Cancer therapy for a long time was grounded on chemotherapy, radiation therapy, and surgery. During the past two decades, targeted therapy for cancer has revolutionized overall cancer treatment. During the past two decades as well, the cancer therapy market witnessed the launch of various targeted therapies that became blockbuster cancer drugs.
Notable blockbuster cancer drugs include Roche's (RHHBY) Rituxan and Herceptin, Novartis' (NVS) Gleevec, and Johnson & Johnson's (JNJ) Imbruvica.
Article continues below advertisement
Cellular immunotherapeutics
With the growth in the field of personalized medicines, immunotherapy is expected to play a key role. In immunotherapy, a person's immune system is educated to identify tumor antigens on major histocompatibility complex, which effectively helps combat tumors.
Cell-based immunotherapy for cancer aims to generate immensely specific T cells for targeting tumor cells utilizing a cell-based antigenic test. Right now, the most emerging immunotherapy approach is known as adoptive cell transfer (or ACT). ACT utilizes a patient's immune cells for cancer therapy.
Different types of the ACT include TILs (tumor infiltrating lymphocytes), TCRs (T-cell receptors) and CARs (chimeric antigen receptors), but among these various types, CAR-T cell therapy has advanced to the clinical trial phases.
Adoptive T-cell therapy demonstrated effectiveness in melanomas. The processes for improving the efficacy of adoptive T-cell therapy approach is to bestow T cells with tumor reactivity, develop chimeric antigen receptors and isolate and purify memory T cells.
FDA approval
In 2017, the FDA (US Food and Drug Administration) approved two CAR-T therapies. In August, the FDA approved Novartis' (NVS) Kymriah. (To know more on Novartis' Kymriah, please refer to Market Realist's "How Is Novartis's Kymriah Positioned for 2018?")
In October 2017, the FDA approved Gilead Sciences' Yescarta for the treatment of certain types of non-Hodgkin lymphoma.
The acquisition of Juno Therapeutics by Celgene (CELG) will likely boost Celgene's immunotherapeutics research capabilities and strengthen the former's product portfolio, because Celgene will gain Juno's advanced cellular immunotherapy portfolio.
Notably, the Vanguard Total Stock Market ETF (VTI) invests ~0.38% of its total portfolio holdings in Celgene.