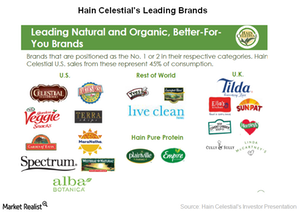 Hain Celestial Pursues an Accretive Acquisition Strategy
Strategic buyouts have fueled growth
Hain Celestial (HAIN) is a force to be reckoned with in the organic food space. The company has solidified its position over the years by making numerous acquisitions in both US and overseas markets. These acquisitions have helped Hain Celestial to grow its footprint and gain access to new products. A strategic acquisition can offer synergies (cost, revenue, and more) to both parties, leading to meaningful growth.
Some of the company's important buyouts include Ella's Kitchen (organic baby food), Tilda (basmati rice), Orchard House, Spectrum, Empire Kosher, and Rudi's Organic Bakery.
Note that the food and beverages sector is now in the midst of rampant consolidation wherein even Hain Celestial has been considered a potential takeover target. There has been widespread speculation about potential suitors ranging from Pepsi (PEP) to Mondelēz (MDLZ) to Nestlé to Danone.
Article continues below advertisement
Article continues below advertisement
Latest buyouts
On December 4, 2017, Hain Celestial acquired UK-based Clarks for an undisclosed amount. Clarks, which produces natural sweeteners such as maple, agave, honey, carob, and date syrups, will be commensurate with Hain Daniels' business. The UK-based Hain Daniels is a maker of fresh and healthy food and drinks under brands such as Hartley's, Johnsons Juice Company, Farmhouse Fare, Sunripe, Gales, and more. The company estimates that the acquisition will be accretive to its fiscal 2019 bottom line.
In 2017, Hain made two important buyouts, namely the Better Bean Company and the Yorkshire Provender. Better Bean is the company's first strategic buyout under the Hain Celestial Cultivate Ventures platform. Launched in November 2016, Cultivate Ventures is designed to boost small portfolio and lifestyle brands (BluePrint, Tilda, SunSpire, Yves Veggies Cuisine, and more) through sizable investments. The platform will also help to incubate small acquisitions until they're in sync with the company's main operations.
On the other hand, Yorkshire is one of the most well-known soup makers in the United Kingdom. The acquisition will boost Hain Celestial's soup offerings. Yorkshire Provender's net revenue was ~6 million British pounds in 2016.