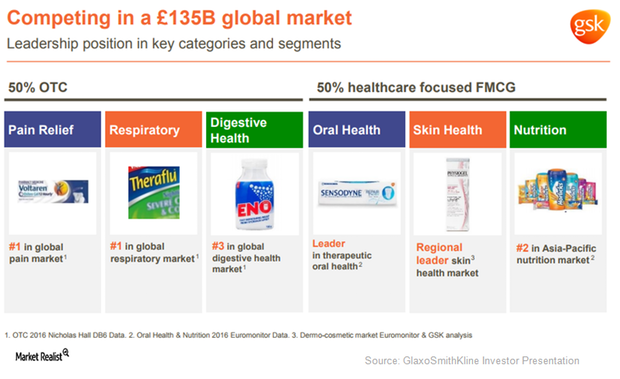 GSK Has Emerged as Leading Player in Over-the-Counter Market
Consumer healthcare market trends
GlaxoSmithKline (GSK) is currently the leader in the 135 billion pound consumer healthcare market, differentiated across over-the-counter (or OTC), oral care, and Regional, Nutrition and Skin Health segments with global market values of 99 billion pounds, 22 billion pounds, and 14 billion pounds, respectively.
Article continues below advertisement
Over-the-counter market participants
According to 2016 Nicholas Hall DB6 Global Marketer Data, GlaxoSmithKline accounts for 4.4% of the global OTC market followed by Bayer and Sanofi (SNY) each with a 4.3% market share. Johnson & Johnson (JNJ) has a 4.2% market share, and Pfizer (PFE) has a 3.5% market share. The OTC market is highly fragmented with the top five players accounting for only about 21% of the total market share.
Oral care market participants
According to 2016 Euromonitor Data, Colgate has a 26.0% share of the global oral care market, followed by P&G with 18.1% market share, GlaxoSmithKline with a 9.7% market share, Unilever with a 7.3% market share, and Johnson & Johnson with a 5.7% market share. With the top five participants accounting for almost 67% of the market share, the oral care market is much more concentrated than the OTC market.
Article continues below advertisement
Growth drivers
Although GlaxoSmithKline has witnessed a drop in its growth rate for its consumer healthcare business across categories and markets from 4% in 2015 and 2016 to around 2% in 2017, the company expects its consumer healthcare business to revert back to 2.5% to 3% growth in 2018. Besides the improving market environment, GlaxoSmithKline expects to benefit from trends such as increasingly conscious consumers, an aging population, the growing middle class, and a focus on innovation. According to the IPSOS Trend Survey from September to October 2016, around 77% of consumers are interested in having more influence on decisions related to their health.
UN DESA has also projected that by 2030, almost 1.4 billion of the people in the world will be above 60 years of age, almost 0.5 billion higher than in 2015. Brookings Institution has projected the emerging middle class population across the world to be around 2.4 billion more in 2030 as compared to that in 2015. To satisfy the increasing demand from the aging population with sufficient purchasing power, GlaxoSmithKline aims to invest in innovation across multiple avenues such as channels, products, formats, switches, and devices.