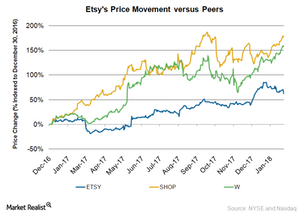 Factors that Help Etsy Stand Out in the e-Commerce Space
Strength in crafts category
Etsy (ETSY) is a US-based e-commerce retailer with operations around the world. Established in 2005, the company initially operated as a handmade crafts and supplies retailer.
Over time, Etsy has covered other categories such as clothing and jewelry to take the total number of products available for sale on its platform to 45.0 million. Currently, Etsy has more than 1.9 million active sellers and more than 31.7 million active buyers.
Etsy's (ETSY) primary advantage is its image as a place to buy unique handmade crafts and artisan goods. This perception has given it an edge over online behemoth Amazon (AMZN).
The arrival of Amazon on the retail scene has single-handedly changed the dynamics of this sector. In 2015, Amazon launched Handmade, a platform for selling crafts and artisan goods that hasn't had much of an impact on Etsy.
Article continues below advertisement
Aside from having the first mover's advantage in the crafts category, Etsy has a competitive edge over Amazon regarding seller fees. Etsy charges relatively lower seller fees compared with Amazon. This fee structure works well for Etsy's seller base, which is mostly composed of female entrepreneurs.
Turnaround efforts in full swing after activist investors' push
In 2017, several activist investors urged Etsy to take strategic alternatives to unlock shareholder value. The company subsequently stated that it plans to "double down" on growth initiatives such as cutting costs, overhauling its management, and investing heavily in improving its digital platform in an effort to boost its top line.
Driven by strategic initiatives, Etsy (ETSY) reported strong 3Q17 results and ended fiscal 2017 with its stock price rising 73.6%. This increase was significantly better than the S&P 500 Index's (SPY) gain of 19.4%.
However, this price movement was lower when compared with its peers Shopify (SHOP) and Wayfair (W), which posted gains of 135.6% and 129.0%, respectively, in fiscal 2017.
Series overview
In this series, we'll discuss Etsy's (ETSY) growth strategies and look at its recent quarterly performance. We'll also analyze Etsy's valuations and see what analysts have to say about the company.