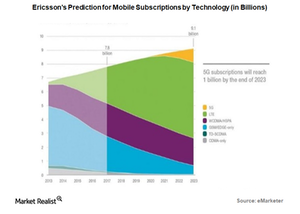 What Is Ericsson's View on 5G Subscriptions?
By Sophia Nicholson

Jan. 26 2018, Updated 10:33 a.m. ET
Ericsson foresees 1 billion subscriptions
According to a Reuters report, telecom gear maker Ericsson (ERIC) predicts that ~1.0 billion subscribers could have access to 5G mobile networks by 2023. Ericsson expects this emerging 5G technology to nearly double between 2022 and 2023, creating a global breakthrough in that year.
Ericsson foresees about 9.1 billion subscriptions for 5G technology by the end of 2023. Ericsson predicted in its Mobility Report that there could be 500 million 5G subscribers worldwide by 2022.
Article continues below advertisement
5G networks are creating industry buzz
Fifth-generation (or 5G) technology is creating waves in the media and telecommunications space. Companies in the telecom sector are looking to invest in 5G networks and are gearing up to challenge cable broadband providers.
These companies believe that 5G has the potential to significantly reduce latency, boost speed for Internet access, and improve network reliability.
This 5G technology is expected to benefit customers with services such as broadband, mobile, and IoT (Internet of Things).
According to Ericsson, the deployment of the 5G network could occur in dense urban areas, including the US (SPY), South Korea, Japan (EWJ), and China (MCHI) (FXI). Patrik Cerwall, head of strategic marketing and alliance for Ericsson's Networks segment, expects more than half of the world's 5G subscriptions to originate in Asia before 2024.
Ericsson has been working on 5G deployment through strategic partnerships with several global network operators. The company also signed a contract worth more than 400 million euros to help Russian telecom giant MTS prepare its network for 5G trials and rollout.