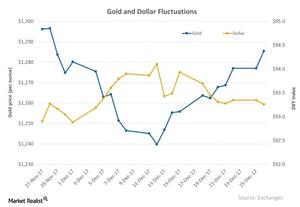 How the Dollar and Gold Moved in December
Dollar slump
The relationship between gold and the US dollar is pretty clear. As the chart below depicts, gold and the US dollar are mostly inversely related to each other. The US Dollar Index (UUP) was down 0.10% on Tuesday, December 26, and has seen a five-day trailing loss of 0.2%. On a YTD (year-to-date) basis, it has fallen a massive 8.8%. Gold and silver have seen a YTD gain of 11.2% and 3.2%, respectively.
The Physical Swiss Gold Shares (SGOL) and the Physical Silver Shares (SIVR) have also risen 11.1% and 3.4%, respectively.
Dollar denomination
The above chart shows the performance of gold versus the dollar during the past one month. The US dollar is tracked against a basket of six major world currencies including the Swiss franc, the Swedish krona, the euro, the pound, the Canadian dollar, and the Japanese yen. The DXY was at 93.27 as of December 26. Precious metals are dollar-based assets. They gain strength when the dollar drops. The lower dollar (UUP) means dollar-denominated assets are cheaper for investors from other countries.
Miners like Kinross Gold (KGC), Eldorado Gold (EGO), Alacer Gold (ASR), and Barrick Gold (ABX) have increased 5.1%, 11.9%, 8.5%, and 1.8%, respectively, on a five-day trailing basis. The weakness of the dollar could have a positive impact on miners along with precious metals.
Article continues below advertisement