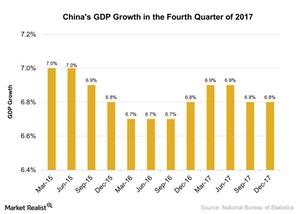 What Boosted China's GDP in 2017?
China's GDP in 4Q17
China's (FXI) (YINN) GDP grew at an annualized rate of 6.8% in 4Q17. It beat the market expectation of 6.7% growth. The economy (YINN) expanded at an annualized rate of 6.9% in the first two quarters of 2017 and 6.8% in 3Q17.
Overall in 2017, the economy (MCHI) (ASHR) grew at a rate of 6.9%, which was far above the market expectation and official target of 6.6%. The economy posted a record low performance in 2016 with growth of 6.7%, which was a 26-year low. Higher growth in the industrial sector and stronger exports mainly drove economic growth in 2017.
Article continues below advertisement
Components of GDP
In 2017, the industrial sector advanced 6.6%, the manufacturing sector posted a growth rate of 7.2%, and the service sector posted growth of 8.2%. On the other hand, retail sales and domestic consumption also posted strong growth in 2017.
The strong improvement in economic growth is a positive sign for investors as well as for the economy (FXI). It also signals that the economy is gradually recovering from the slowdown, which we saw in 2015 and 2016. As China is an important trading partner for many economies, the improvement in its economic activity is a positive sign for global investors.
You may also be interested to read, Why Pimco Thinks It's Time for Investors to Be Cautious.