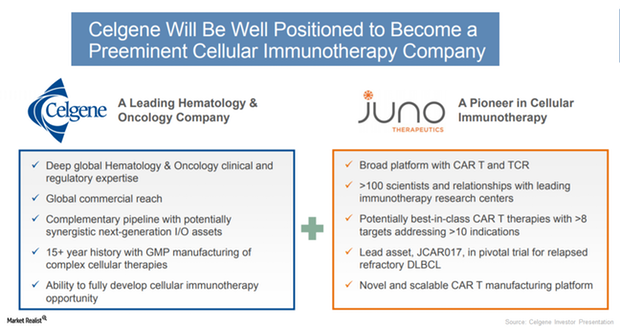 Celgene to Acquire Juno Therapeutics
Acquisition deal
On January 22, 2018, Celgene (CELG) and Juno Therapeutics (JUNO) announced a merger agreement in which Celgene will acquire the latter's business. According to the terms of the agreement, Celgene will pay $87 per share in cash, or around a total of $9 billion, net of cash and marketable securities acquired, in addition to Juno Therapeutics' shares that are already owned by Celgene, which comes to around 9.7% of outstanding shares.
Article continues below advertisement
About Juno Therapeutics
Juno Therapeutics is a forerunner in the development of chimeric antigen receptor T (or CAR) and T cell receptor (or TCR) therapies. Juno has a new portfolio for which investigations are underway on multiple targets and cancer indications.
Juno's CAR-T could potentially add up for Celgene's lymphoma program. Juno's JCAR017 (lisocabtagene maraleucel) represents a potentially best-in-class CD19-directed CAR-T, which is currently in a pivotal clinical trial for evaluation of safety and efficacy in relapsed or refractory diffuse large B-cell lymphoma (or DLBCL).
Juno anticipates the regulatory approval of JCAR017 in the US in 2019. The company estimated potential peak sales of JCAR017 to be around $3 billion. The transaction between Celgene and Juno Therapeutics is expected to close during the first quarter of 2018.
Juno's cellular immunotherapy portfolio is expected to further strengthen Celgene's innovation capabilities in hematology and oncology over the long term.
Notably, the iShares Nasdaq Biotechnology ETF (IBB) invests ~7.63% of its total portfolio holdings in Celgene. Biotechnology peers Amgen (AMGN) and Gilead Sciences (GILD) make up about ~8.29% and 8.34%, respectively, of IBB's total portfolio holdings.