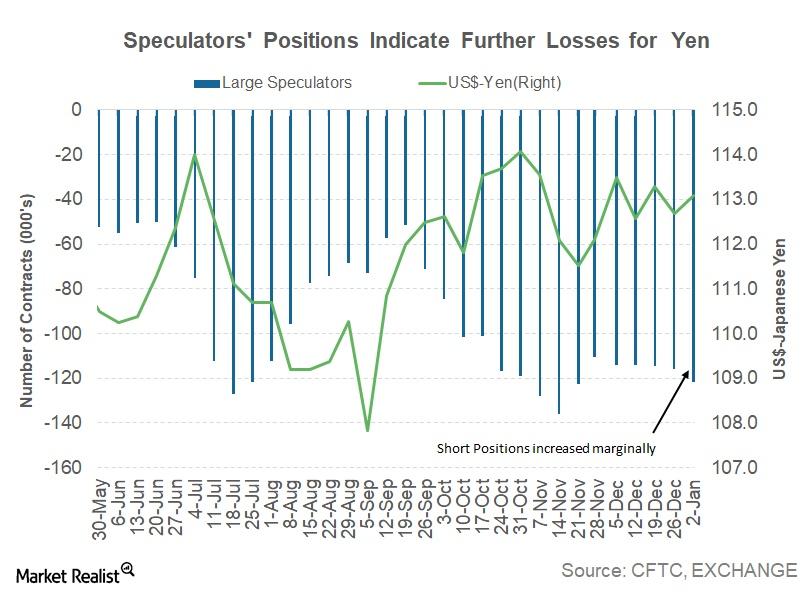 Can the Japanese Yen Rise against the US Dollar?
Japanese yen continues to depreciate
The Japanese yen (JYN) is the only currency that is unable to capture the weakness in the US dollar (UUP). For the week ended January 5, 2018, the Japanese yen (FXY) closed at 113.09 against the US dollar (UUP) compared to 112.69 in the previous week, depreciating 0.35%. It was the only major currency that didn't appreciate against the US dollar last week. The Japanese markets were closed three days last week, and no economic data were reported. The reason the yen could remain weak is because the Bank of Japan is the only major central bank that's continuing its accommodative monetary policy, leaving interest rates below zero and continuing its bond-buying program.
Japanese equity markets (EWJ) rose last week, with the Nikkei 225 (JPXN) posting a gain of 4.2% for the week ended January 5, 2018. A weak yen is positive for the Japanese markets since most Japanese companies rely on export revenue.
Article continues below advertisement
Speculator positions remain unchanged
Speculators added the Japanese yen (YCL) to their short positions last week, according to the latest COT (Commitment of Traders) Report released on January 5, 2018, by the CFTC (Chicago Futures Trading Commission). For the week ended January 5, 2018, the total net speculative positions were -121,766 compared to -116,086 in the previous week. That could be a signal that investors are expecting a further weakness in the Japanese yen in the future.
Outlook for the Japanese yen
This week, labor cash earnings are the only major data from Japan. An increase in cash earnings could signal growth in domestic demand and cut the reliance of the Japanese economy on global demand. Overall, the outlook for the Japanese yen remains weak for next week, and perhaps a sharp fall in the US dollar could revive the demand for the yen.