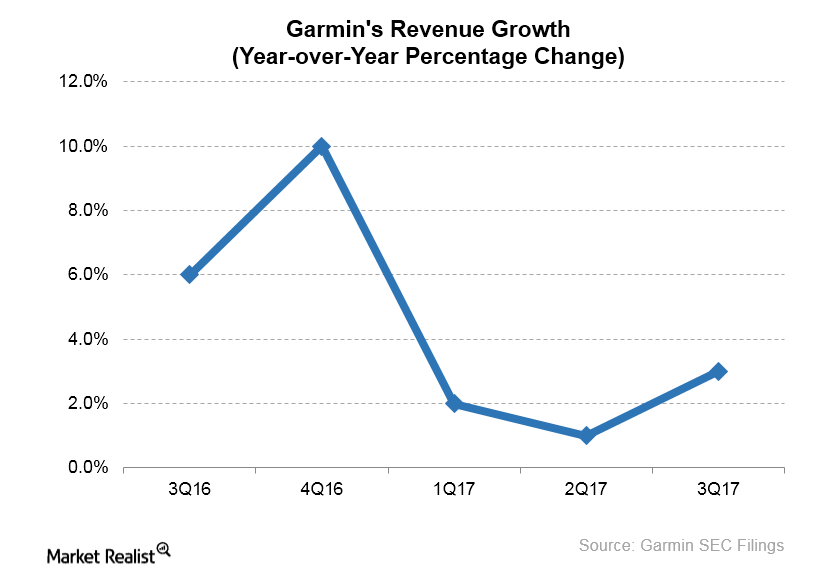 Breaking Down Garmin's Performance Metrics
By Ruchi Gupta

Nov. 20 2020, Updated 5:03 p.m. ET
Top line rose 3.0%
Double-digit growth in the outdoor, aviation, and marine segments led Garmin (GRMN) to top line growth of 3.0% YoY (year-over-year) to $743.1 million in 3Q17. The company's top line growth rose compared to its rise of 1.0% YoY in 2Q17 but slowed compared to its rise of 6.0% YoY in 3Q16.
On average, analysts were expecting Garmin to post revenue of $721.6 million in 3Q17.
Article continues below advertisement
How Garmin's top line growth stacked up
Garmin's 3% top line growth in 3Q17 compared with Apple's (AAPL) top line growth of 12.3% in the same period. Apple is one of Garmin's competitors in the Smartwatch market. Samsung (SSNLF) is another competitor. Fitbit (FIT) and TomTom (TMOAF), Garmin's two other industry peers, recorded top line falls of 22.1% and 9.0% YoY, respectively, in 3Q17.
The chart above shows Garmin's top line growth for the last several quarters until 3Q17.
Inside Garmin's segment performance
Garmin's outdoor segment registered sales growth of 31% YoY in 3Q17, marking the strongest growth of any segment in the quarter. Its aviation and marine segments grew 16% and 10% YoY, respectively. Its fitness and auto segments each fell 12% YoY in 3Q17.
Although Garmin's auto revenue fell, the segment was the largest contributor to Garmin's top line in 3Q17. The auto segment represented 25.4% of Garmin's total revenue in the quarter. Garmin's new products in the auto segment include Garmin Speak, the voice-controlled vehicle navigation device that uses Amazon's (AMZN) Alexa digital assistant.
Garmin's fitness segment, under which it sells activity trackers, recorded a fall in sales in 3Q17 because of soft demand for basic activity trackers.