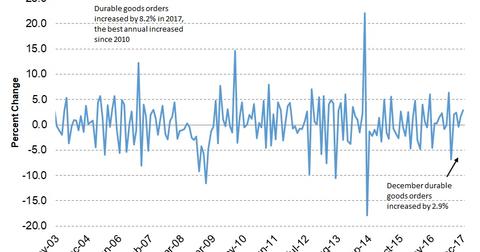 What Boosted Durable Goods Orders to a 7-Year High in 2017?
By Ricky Cove

Updated
Durable goods orders
Investopedia defines durable goods orders as "an economic indicator released monthly by the Bureau of Census that reflects new orders placed with domestic manufacturers for delivery of factory hard goods (durable goods) in the near term or future." This monthly report is a compilation of results from the US Census Bureau's Manufacturers' Shipments, Inventories, and Orders (M3) survey, a voluntary survey authorized by Title 13 of the United States Code. More than 3,000 companies are surveyed, representing manufacturers from 92 different categories.
Article continues below advertisement
December durable goods orders
Durable goods orders rose 2.9% in December, closing 2017 at a high. Durable goods orders surged because of an increase in aircraft orders. Even excluding transportation (IYT) orders, durable goods orders rose 8.2% in 2017, the best annual increase since 2010.
Sectors that improved the most
The December durable goods orders report indicated strong growth in the metals (XME) and machinery (VIS) spaces, while orders for computers, electronic products, and electrical (SOXL) appliances fell. The increase in durable goods orders indicates businesses' (XLI) willingness to invest in infrastructure and machinery, most likely to offset rising labor shortages and improve productivity. Recent developments in taxation and tariffs may increase durable good orders. Overall, the outlook for durable goods manufacturers looks optimistic, with the possibility of further gains in 2018.