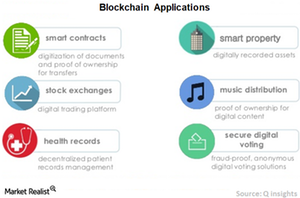 Blockchain and Bitcoin: But What Else Is Blockchain Used For?
VanEck
Do you agree that investing in a blockchain makes more sense than in bitcoin?
In a way, this is an odd position. One could argue that bitcoin and cryptocurrencies are way ahead of other blockchain applications, in that they are accepted by millions of investors. Almost no blockchain technologies are widely used . . . yet.
Article continues below advertisement
Market Realist
Blockchain technology is not yet widely used
Although blockchain technology (SOXL) (SOXX) powers cryptocurrencies (ARKW) such as bitcoin and Ethereum, its current use is mainly concentrated in a few pockets of the financial services (XLF) (VFH) sector. Below are some of the prominent users of blockchain technology:
Nasdaq and the Australian Securities Exchange aim to reduce costs and improve efficiencies by using blockchain technology. Nasdaq uses blockchain to calculate capitalization tables.
Deutsche Bank is planning to use the technology in currency settlement, trade processing, and derivative contracts.
Santander is the first bank in the United Kingdom to use blockchain to transfer live international payments.
The Chicago Mercantile Exchange has announced the launch of a bitcoin futures contract.
The US Federal Reserve is developing a digital cash system using blockchain technology.
Citigroup is planning to test currency called "citicoin" using blockchain.
Application in other sectors
Blockchain technology could gradually find applications in other areas such as property records, clinical trials, precision medicine, voter fraud prevention, supply chain visibility, and more. However, there is still a long way to go before the technology finds wider acceptance.